Princess Metroidononoke: Ori And The Blind Forest
Threatening to make you cry. Don't do it!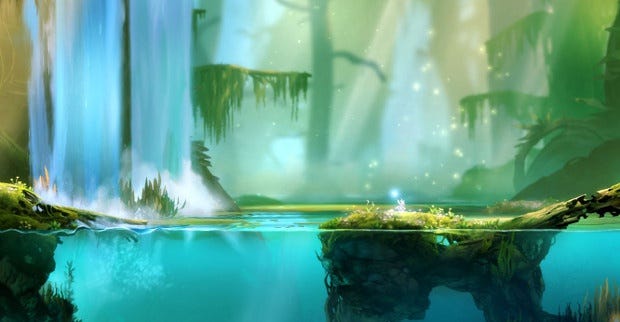 Do you struggle to form tears within your eyes and release them from your body to express sorrow, joy, or other related emotions? Good news! A video game may help you. Moon Studios' Metroidvania-y platformer Ori and the Blind Forest "is going to be one of those games that might make you cry," publishers Microsoft say, "we can feel that much already." Big deal; people cry at the John Lewis Christmas advert. Join in the chant: no more tears! No more tears!
The game does look jolly nice though, with a little forest spirit leaping about verdant glades. As well as Metroid and Castlevania and all those, it's looking to Princess Mononoke and perhaps Rayman Legends and My Neighbor Totoro as influences.
It's certainly a fine collection of ingredients to blitz together in a game blender, with a squeeze of tears for seasoning. Ori has the usual Metroidvania model of a big world to explore, jump, solve puzzles, and kill things in, with areas locked off until you find the skills to access them. Also Ori's nemesis is a giant owl, which we can all agree is a sorely underused foe within video games.
Ignore talk of "Xbox exclusives" as Ori and the Blind Forest is coming to PC too, this autumn.