Outed: Lara Croft And The Guardian Of Light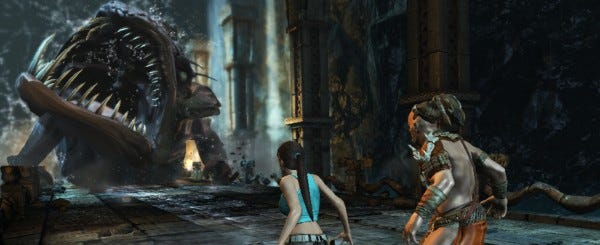 Lara Croft's Top Down Co-Operative Adventures was released yesterday. Have you played it? It's a bit stunning. I've only spent an hour with it, but for the entire duration of that hour I found myself repeating "Jesus, these developers ate their Weetabix" over and over again.
John's Wot I Think is inbound for this Friday, but in the meantime you can enjoy the demo, and there's a launch trailer hidden in the dusty crypts below.

What makes it so good? I'm not sure where to start. It has a Popcap-like attention to detail. The characters have an excellent, satisfying feel to the way they move and attack. The puzzles are excellent. The setpieces are frequent, and smart. And on top of all the action and exploration is a moreish Diablo-like game of artifact collection. It's just a top quality piece of work, plus co-op. Did I mention there's a demo? There's a demo.