Paradox buying BattleTech studio Harebrained Schemes
Making more BattleTech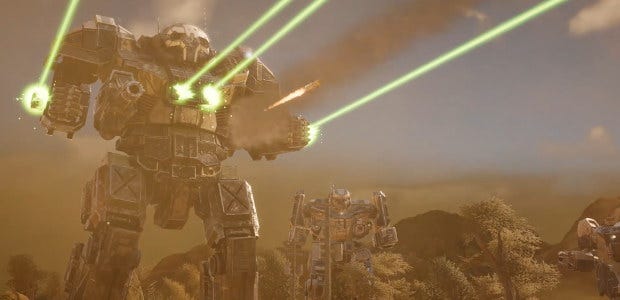 Paradox Interactive have announced they are buying Harebrained Schemes, expanding their power as the heavyweight champ of traditional PC gaming. Y'know, Paradox, the Swedish mob who make games including Crusader Kings II and Stellaris as well as publishing loads more. And y'know, Harebrained Schemes, the American studio behind Shadowrun and BattleTech - and which was co-founded by a fella who helped create those tabletop worlds, Jordan Weisman. Paradox published BattleTech and evidently they got on so well they want to tie the knot. It sounds like the plan is for Harebrained to continue as before, including making more BattleTech, only now with more security.
Harebrained will become a Paradox internal studio but still, Paradox say, be "led by its own internal management and creative teams, designing and developing the games that have earned them their outstanding reputation." One thing in particular Weisman points out in a little video is that they're "gonna make a lot more BattleTech".
The deal hasn't quite gone through yet, but assuming nothing goes wrong, they'll be superfriends. Paradox haven't said how much they paid, and I suppose it's not really our business. Nosey parker. Onto the quotes!
"Our recent successful launch of BattleTech, our first project together, has been a fantastic collaboration, but the possibilities of what we can do together in the long term now that we've joined forces -- that's what has us truly excited," Paradox CEO Fredrik Wester said in the big official statement-o-rama.
Okay, that's enough from you, Freddo, we have a lot of quotes to get through. Over to the Brainers!
"Mitch and I started Harebrained to create the kind of story-rich tactical games we loved," Jordan Weisman, co-founder and CEO of Harebrained, said in the statement, "and for the last seven years, our studio has been fueled by our team's passion and by the generous support of our fans. As the scale of our games has grown and the marketplace has gotten extremely noisy we felt that HBS needed to team up with a company that could provide us the financial stability and marketing expertise that would allow us focus on what we love doing - making great games and stories."
Harebrained relied on Kickstarter crowdfunding for Shadowrun Returns, Shadowrun: Hong Kong, and BattleTech. Fans supporting and enabling your dreams is great, but I can't imagine it feels very secure to rely so much on crowdfunding, especially given that enthusiasm for the model was waned. It's nice to cosy up to a bigger buddy.
"We share a deep respect for our audiences, for healthy and collaborative teams, and for the creative process itself -- the fit just works," Harebrained president and co-founder Mitch Gitelman added in praise of Paradox.
As a big hullo, Paradox say they'll give a free copy of Stellaris to everyone who backed BattleTech's Kickstarter campaign. For more on that, watch your inbox, I suppose. And probably be patient - I imagine there's a whole lot of partying going on right now. And paperwork. A paperwork party. Neck a shot every time you sign and initial on a contract. What could go wrong?