Path of Exile starts hunting monsters in its Bestiary Challenge League
Build a zoo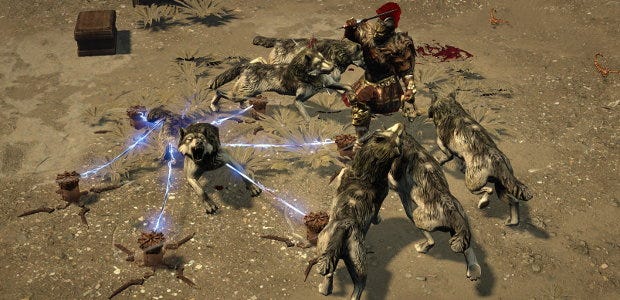 Though we won't see Monster Hunter: World on PC until chuffing autumn, other games are stepping up to offer opportunities to track and fight big creatures. Fine free-to-play action-RPG Path Of Exile today adds a Bestiary Challenge League, which will challenge players to track, fight, and capture 300-odd monsters. Players can keep 'em in a menagerie to visit, which is nice, or go full Monster Hunter and murder the monsties to use their guts in crafting powerful items. Oh dear oh dear.
The Bestiary Challenge League will task players with capturing all the beasts of the world, from dogs and bears through to nasty bigguns. It even gives a little handbook filling in as you collect them, which is a cute touch. As is keeping captured monsties in a menagerie, which players can visit just to see them.
But, like in Monster Hunter, the real purpose of hunting monsters is to harvest them for guts to forge stronger items. New Beastcrafting Recipes are in, bringing new items and new ways to modify items. All this leads towards a number of new boss battles against ghostbeasts, and developers Grinding Gear Games say the update also includes a battle that's "Path of Exile's hardest encounter". You'll want strong gutgear for that, I'd imagine.
Update 3.2.0 is due to launch at 8pm (UK time) today. Pre-loading of the patch has begun for the standalone client. Check out the full and long patch notes for details on everything or this page has the highlights.