Pro Evo Soccer 2016 To Get New Data Pack Next Week
Updates are coming home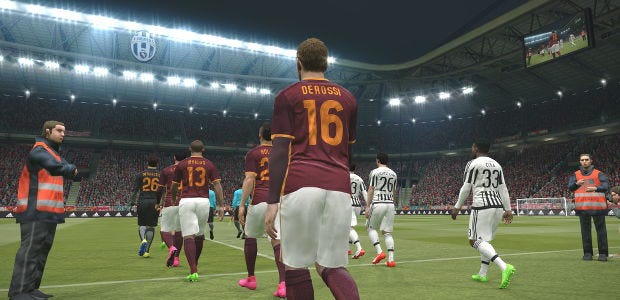 After a balls-up at launch, Pro Evolution Soccer 2016 [official site] shipped with a load of out of date team rosters. A subsequent free 'Data Pack' released a month later failed to straighten this out, but Konami promised that Data Pack #2 would set things right. Now they've confirmed that'll be with us next week next Thursday, December 3rd.
As well as guiding each misplaced player to their right and respective dressing rooms, Data Pack 2 will also include loads of cosmetic touch-ups, such as three new international strips for Germany, Italy and Spain respectively; and 51 new player likenesses including: Fernando Torres, Kevin de Bruyne, Julian Draxler, Aleksander Mitrovic and the consecutive English Premier League goals record-equaling Jamie Vardy.
For yet more autheticathisms, eight new boot styles will also be added, as will the new Nike Ordem CSF and Ordem2 balls that have apparently been "perfectly replicated for use within the game". Lastly, new entrance sequences for Copa Libertadores (the South American cup) and Sudamericana (the South American league) matches have been slotted in too. Unfortunately for us PC lot, though, the Brazilian Estadio do Maracana venue that was promised in previous updates will be exclusive to PS4 and Xbox One at this stage.
Data Pack #2 is due on Thursday.