Kicking Off: Pro Evolution Soccer 2016 Released
Putting the boot in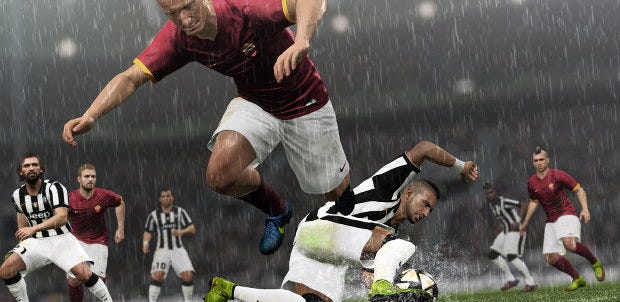 I've been looking forward to the latest Pro Evolution Soccer [official site] game since reading a couple of extremely positive reviews of the PS4 version. The game arrived on Steam last night and I'm installing it right now but release day revelations are chipping away at my excitement. Last year's PC Pro Evo was a hybrid version that felt closer to the 360 and PS3 edition of the game than that on current-gen consoles. The same is apparently true this year and while that doesn't mean the game will necessarily be a load of cobblers, it does mean I'm unwilling to assume any positives related to the celebrated PS4 version will carry over.
I hadn't realised the PC version was going to be anything other than a full pomp and circumstance port until this morning. More fool me, perhaps. In an interview with NextGenGamingBlog earlier this year, PES' European Product Manager mentioned that the PC would be receiving another hybrid version:
"It's not the same as PS4 or Xbox One. And it's not the same as PS3 and X360. It's its own thing...The PC version will have its own sort of entity there. It's got a lot more the features of PS4. A lot more the features of Xbox One."
That's "more features" in comparison to last year, which felt far too close to the previous generation of consoles for comfort. Because people are capable of being upset about a single missing blade of hand-crafted and animated grass that reacts to weather conditions in realistic fashion, it can be difficult to tell how valid complaints about any kind of graphical downgrade actually are. There are claims on the Steam forums that the screenshots chosen to advertise the game on Steam are plucked from the PS4 version and that they don't represent the product being sold, as well as broader points about muddy visuals, crappy weather effects and sluggish controls.
Most early players seem to argue that the game plays the same as the PS4 version and just looks different, however. Visually, last year's game could be improved using the SweetFX mod and the same may be true this year as well.
I'll find out for myself soon enough. I'd particularly been looking forward to the Master League mode, which sounds like it introduces all kinds of dynamic team chemistry gubbins to make squad-building more than a case of picking the people with the highest numbers applicable to each position. A demo is apparently due sometime today so you'll be able to try everything out for yourself.
Oh, and I'm hearing that even singleplayer modes require an internet connection at all times. I'm deflating like Harry Redknapp's face over here.