Pixel Galaxy Proves It's Hip To Be Square, Is Out Now
Launch trailer inside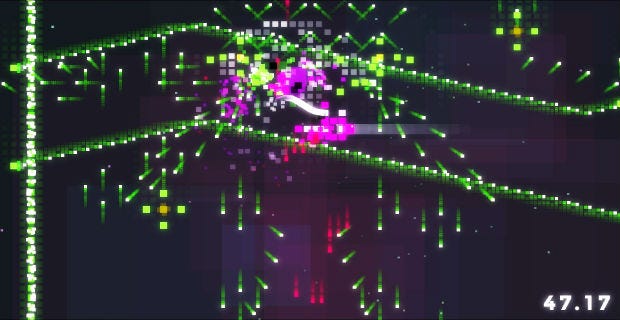 Put simply, Pixel Galaxy [official site] is a bullet hell shmup. It's also a frenetic explosion of luminous, hedonistic chaos. For every scream-with-joy, punch-the-air moment of brilliance, you'll be met with two or three or four bang-your-head-off-your-desk flashes of frustration. All told, it's balanced and fair thus will draw you back for more. Have a look for yourself at the launch trailer inside.
It may not be clear from that stramash of laser-spouting carnage, but you begin life as a solitary pixel in Pixel Galaxy. In an evolutionary process akin to Snake, collecting loose squares allows you to grow, and whilst getting bigger stands you in better stead as you march towards boss battles - certain companion cubes harness weapons to aid your assault - the extra baggage makes dodging the barrage of bullets constantly zipping across the screen nigh on impossible. Think this. [Ew, gross. -Grossed Out Ed]
I've only played Pixel Galaxy for about 20 minutes, and in that time I made it through the tutorial and onto the "Easiest" selection of levels. I struggled and there's another five settings, each progressively more challenging than the last. Luckily, the game kept me right, whilst offering what sort of felt like a pseudo interpretation of my life.
"YOU ARE A PIXEL," the tutorial told me. "BULLETS KILL YOU. COLLECT FRIENDS TO DEFEND YOURSELF. FRIENDS WILL SHOOT FOR YOU. SHOOT THE CORE TO BEAT THE BOSS. SURVIVE IF YOU CAN."
It's hardly Sun Tzu's The Art Of War, but I like it. Pixel Galaxy is out now on Steam for £6.99.