Planescape Torment: Enhanced Edition announced
What can remaster the nature of a man?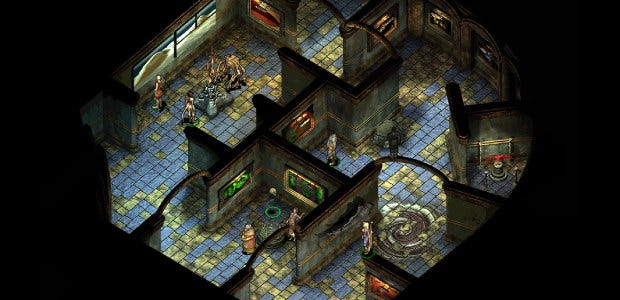 Planescape: Torment [official site], the revered 1999 fantasy RPG from Fallout creators Black Isle, is getting overhauled a touch in an Enhanced Edition due next month. It'll bring support for modern high resolutions and a new interface to match, along with tweaks and fixes. It's being handled by Beamdog, the folks behind the Enhanced Editions of Icewind Dale and Baldur's Gate then a new Gate expansion of their own.
Yesterday, following the wee teaser campaign, Cobbo had some grand predictions for the Enhanced Edition. He's close with some but, as far as we know, it will not actually let Nordom transform into a battlesuit for Morte.
Beamdog say they've buddied up with Torment lead designer Chris Avellone "to curate gameplay updates, bug fixes, and enhancements to best capture his original vision for the game." This includes support for 4k resolutions and a UI rebuilt to work with that, along with a remastered soundtrack, and "modern features such as tab highlighting, area zooming, combat log, quickloot, and more!"
Or, if you want none of that, Beamdog say it'll have options to turn Enhancements off.
Player-made patches and fixes have done a lot for Planescape: Torment but it can still be a bit wonky and crashy with them. A solid new release of Planescape: Torment sounds grand, especially with the option to disable newbits. I know some players weren't too keen on some of Beamdog's additions in past Enhanced Editions.
Planescape: Torment: Enhanced Edition is due April 11th on Windows, Mac, and Linux. (And pocket telephones too.)
While I'm here, hey, what do y'all make of Torment unofficial spiritual successor Torment: Tides of Numenera now you've had time to play it? Our Alec was delighted, declaring it "both a worthy successor to 1999's beloved Planescape: Torment and a smart, reactive and singular RPG in its own right."