This Death Star ride in Planet Coaster is ace
Oie boie!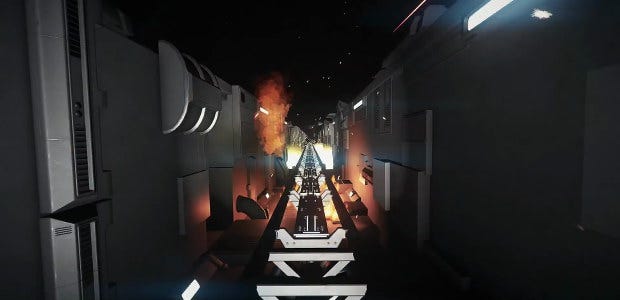 Goodness me, this new Death Star ride someone has made in Planet Coaster [official site] is jolly impressive. Or, as Star Warriors would say, "Oie boie! Disa dowopee isa bombad, all-n youse!" We've looked at Star Wars rides before, amongst other neat-o constructions, but this is certainly the fanciest I've seen. It hits warp factor 10, weaves through a battle, dives inside the starguts, and jogs down that infamous gutter. Watch a video below and hey, you can download the coaster to ride it round in own park too.
The start of that video shows the queue, then a first-person view of the ride starts at 1:50. Or swing on by the Steam Workshop to download it into Planet Coaster. I couldn't tell you how effective a ride it is within the Planet Coaster sim but coo, it is pretty to watch as a real, unsimulated human. Rides for humans, ridden in the body of a simhuman.
The ride is the work of 'Chuck Maurice', who explains this took about 100 hours to make and uses a few bits made by other Planet Coaster designers.
I've grumbled that Planet Coaster's creation is too mechanical for my fancy but I'm mighty glad it lets people create stuff like this.
Selongabye!