Swanker Planets: Planeter Deluxe Released
Larking about with gravity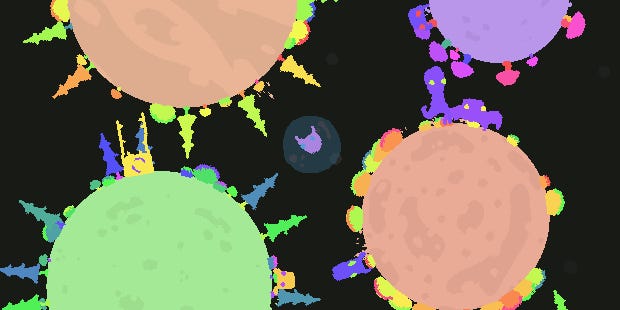 I used to be like you, you know. I was into planets, just any old planets. If I was on it, sure, it was good enough for me. I enjoyed leaping around miniature planets causing trouble in Planeter [official page], unaware they were even regular planets. No more. I'm a deluxe planet person now, baby. It's the good stuff from here on. Stick with me doll and you'll be awash with top rocks.
After releasing Planeter for free, see, creator Ditto has gone back and made a "deluxe edition" with prettier planets and more aliens and a pay-what-you-want minimum of $3 (£2.30-ish including tax).
What does larking about on deluxe planets look like? I'm glad you ask.
"If you like the game and want to help me continue working on it, please consider paying above $3 to gain access to this deluxe edition!" says Ditto. I like it, I'd like them to continue working on it, so I paid for the deluxe edition. It also brings better controller support and more options to fiddle with. I wonder what might come next.
Its Itch store page still has the free version too, mind.