Playerunknown's Battlegrounds' devs give thanks and a teensy peek at the next map
No map is an island, except this one, and the first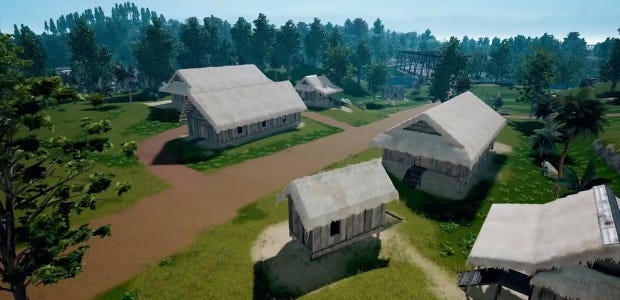 The very surface of the games industry as we know it is still a free-flowing mass of magma, all recognizably solid ground reduced to dust by the shocking impact of the hyper-popular Battle Royale shooter genre, accelerated to planet-smashing speeds by the rise of high-end PC gaming in China.
With the very future of the industry still unsure (well, more unsure than usual), it's almost hard to believe that this cataclysmic event happened just a year ago. In a video released alongside their GDC appearance, the lead developers of Playerunknown's Battlegrounds shared their thoughts on the past twelve months, plus a little glimpse at the upcoming island map.
There's some interesting stuff in the video, although probably not in the way they had fully intended. The talk of utterly hostile player feedback is quite disconcerting, especially combined with their 'Well, at least they're passionate!' response delivered through a forced smile. There's definitely a lot said there, just not with the words that you hear.
But what you're here for is the skinny on the upcoming map. Alice delivered the long and short of it a few weeks back (this one is more short than long), and this video gives us our first look at it. It's designed for shorter, faster, more aggressive matches and you can see the full overhead map below. The map itself will be arriving on test servers 'soon', and should hopefully be easier to test and optimize than previous landmasses, on account of it only being a dinky 4x4km across, down from the usual 64km world of hurt that we're used to.
There's a distinct Southeast Asian look to the buildings on the island, although trees feel an odd mix that somehow looks a little out of place to me. I'm willing to chalk that up to either me not understanding trees, or brain-spiders. Either way, the update shouldn't be too far off. This isn't the only new map for Plunkbat in the works, either, with a larger, more traditional environment of some description still in the works, as well as some new weapons and vehicles.
Despite losing some ground to Fortnite, Playerunknown's Battlegrounds continues to be utterly absurdly popular, and you can grab it for £27/$30 via Steam.