Quantum Conundrum Shows Off Its Fluff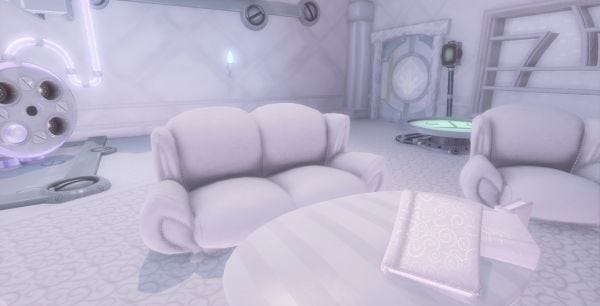 Beyond a couple of videos of creator Kim Swift playing Quantum Conundrum, details have been pretty quiet about the game from Airtight Games. Today we've received a load of fluff. Aha! A joke about PR. A bunch of new, extremely pink screenshots are below, along with some information about the fluffy dimension of the game.
Actually, it's not new information that wasn't known from the previous videos, frustratingly. But Fluffy is one of five dimensions in the game, each incarnation of the rooms around you brought into being with the Inter-Dimensional Shift Device (the others being Normal, Slo-Mo, Reverse Time and a secret fifth one we should find out about next month). It's, like Swift's previous project Portal, a series of room-based puzzles, solved with a magic gun, and linked together by an overarching story. Here you're trying to figure out what's happened to your uncle, Professor Fitz Quadrangle, the inventor of the device. So it's through his mischievous puzzles you must progress, meddling with reality to make that possible.
The idea of fluffy, as you may have guessed, is to make everything fluffy. (I do this for a living.) That means objects are lighter, easier to move, and cuddlier to cuddle. And, er, we knew that. But anyhow, here are some pictures we hadn't seen before:
Here's the trailer from way back: