Let's Be Franc: Tom Clancy's Rainbow Six Siege Video
Introducing the GIGN.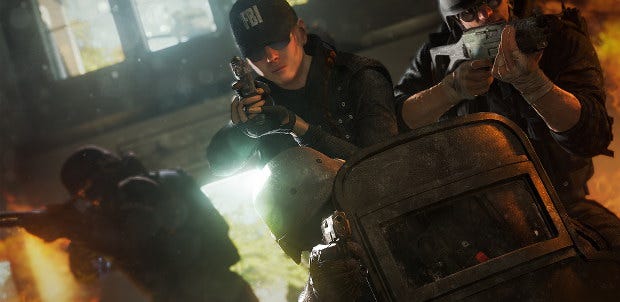 Tom Clancy's Rainbow Six: Siege [official site] is due for release on October 13th, which means there's presumably still 650 trailers waiting to be carted out of Ubisoft's enormous underground trailer mines. I don't mind. I'm keen enough to return to Rainbow Six's world of tactical first-person shootering that I'll even enjoy class introduction videos like the one below.
The video introduces the French GIGN and their myriad of equipment, including a man with a shield, a man with a healing dart gun, a lady with a remote control explosive de-sploder, and a man with a selection of natty kevlar vests. That last guy should probably distribute his goods before the mission starts, but I don't think that's how it works.
Here it is:
Rainbow Six: Siege is aiming to marry to the slow-and-steady tactics of the best of Rainbow Six - with pre-round scouting using remote cameras in place of a strict planning mode - with the faster and more frenetic combat of something like Counter-Strike. It's trying to accomplish that via destructible scenery, which both rewards those who like smashing things with those who like carefully planning where to place defenses to be smashed.
Pip and I had a go at hitting things with sledgehammers back before the closed beta closed, if you want to read our thoughts. I liked it - it's more Rainbow Six Vegas 2 than it is Rainbow Six: Rogue Spear, but Rainbow Six Vegas 2 was great.
Thanks, PC Gamer.