Recettear + Steam = Profit?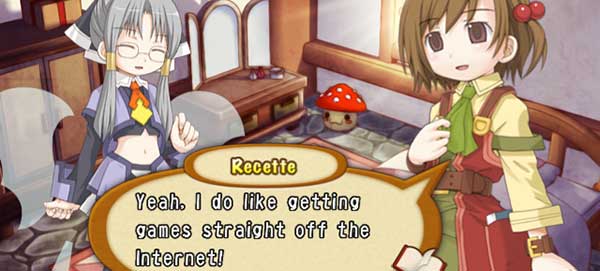 Well, hopefully. While I'm always of a mind that all games should be available on all possible digital distribution wotsits, it's hard to deny that getting the nod from Steam is good news for an indie title. And so is now the case for the lovely Recettear: An Item Shop's Tale - the translation of a gloriously bonkers Japanese game about playing as the owner of an RPG loot store. Translators/re-publishers Carpe Fulgur had previously secured an Impulse release but struggled to attract other attention. Yesterday they confirmed the golden handshake from both Steam and the august GamersGate. Both are also offering 10% off preorders. You've done the Right Thing, men. Details and videos and quotes and a made-up word are below.

"We are happy - almost to the point of delirium, really - to be on Steam," said Andrew Dice from Carpe Fulgur (who we interviewed here). "This is the first time an independently-made game from Japan has appeared on the Steam service. This will allow the game to reach an audience of millions that otherwise would've been closed to it, and we have high hopes that Steam users will enjoy the game for the unique gem that it is."
It arrives on September 10, and the Steam and GG versions are currently teasing you with a glimpse of Recettear's roleplaying/management knickers in the form of a 10% pre-order discount. It's $20/£13 usually, but $18/£11.69 with the money-offiness.
Also, I've just been sent review code, so expect a hearty syllabroth about it soon.
If you can't be bothered to play the demo, someone's done a walkthrough on YouTube. First couple of parts below, and the rest are here.