Reigns: Her Majesty coronated later this year
By this swipe I rule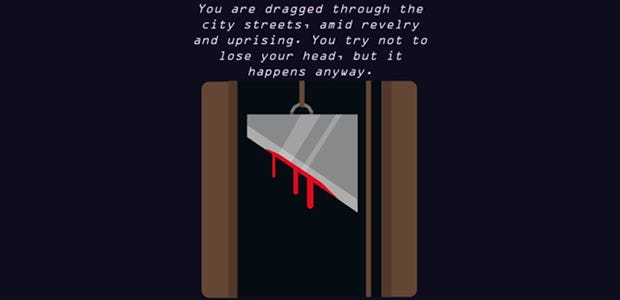 2016's Reigns crunched the complexities of running a kingdom down to yes/no decisions selected simply by swiping left and right, causing Alec's Reigns review to declare "Game Of Thrones + Tinder = You Died." Today developers Nerial announced a sequel, named Reigns: Her Majesty [official site], which jumps forwards in time a little as the focus shifts to queens. A renaissance is upon us but revolution is in the air, and we'll be swiping for our lives once more.
Nerial say:
"A cultural renaissance has bestowed the world with a new era of knowledge and enlightenment but greed and jealousy still conspire against the benevolent queen. Outwit and outlast those that would seek to depose you and your husband by swiping left or right, making just (or unjust) decisions on all manner of royal matters. Maintain the balance between the kingdom's most powerful factions, use mystical items from your inventory, and navigate the increasingly complex politics and personal relationships of your dynasty."
Those new items are upgradeable too (ooh!).
And hey, a friend of RPS is serving Nerial's royal court. Leigh Alexander, the Lo-Fi Let's Player, tweeted that she is Her Majesty's writer/narrative designer.
Reigns: Her Majesty will cost £1.99/2,99€/$2.99 when it hits Windows and Mac later this year. It'll be on pocket telephones too, where the swiping does feel slightly more at home.
Disclosure: Leigh Alexander, who has contributed to RPS, is working on Reigns: Her Majesty. I said that four sentences ago. Mate come on, pay attention.