Remedy's Quantum Break delisted from storefronts after temporary Game Pass removal
Possibly due to expired licenses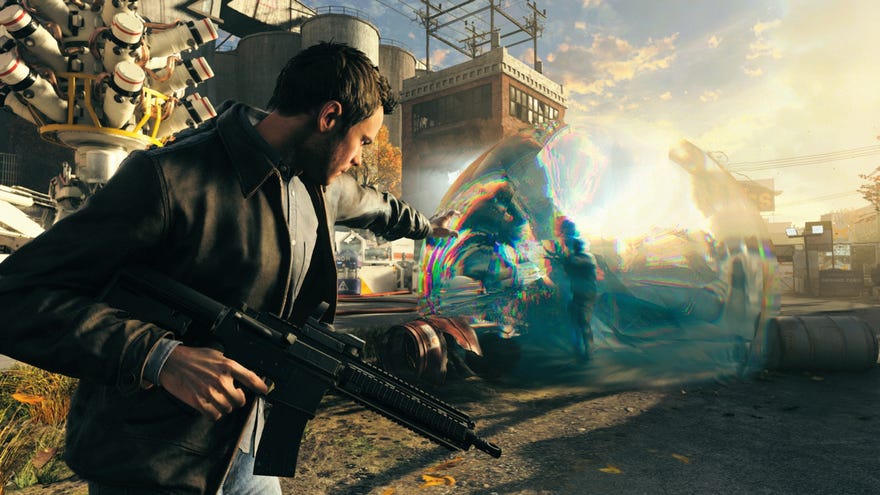 Jack Joyce has run out of time, or steam, both work! Remedy's time-bending Quantum Break - part superpowered shooter, part live-action TV show - has been delisted on Steam and The Microsoft Store. The game's Steam page is still up, but it's no longer available for purchase on PC or Xbox consoles. Publisher Microsoft had already confirmed the game would be "temporarily" removed from Game Pass (for console, it was never on the PC version) due to licensing issues, although there was no word on a removal from storefronts.
Earlier this week, Xbox's head of marketing Aaron Greenberg said "Don't worry Quantum Break will be coming back to Game Pass." He explained that "It is being temporarily removed due to some licenses that expired that were in the process of being renewed. Will let you know as soon as it is back."
The inevitable flow of time affects all things - trees stretch to the sky only to be chainsawed down, stars fold inward and collapse, and much like a human life cycle, licences end and kill games - sometimes temporarily. We've reached out to Remedy for clarification, but a safe assumption to make is that the same licensing issues affecting the Game Pass release also affected Quantum Break's listing on storefronts. Potentially music licenses.
Quantum Break featured a number of real-world music tracks that bookended each chapter, including songs from Paramore, Toto (that Toto track), and Nick Cave & The Bad Seeds. Those bad seeds were previously responsible for killing Alan Wake (also temporarily) when the action-horror was removed from sale in 2017. Alan sank into the lake's deep emptiness for over a year, but he eventually came back to storefronts, no problem. Hopefully, Jack Joyce and the gang escape time limbo quicker.
Even for time-hopping, denim-clad scientists, 2016 feels like a lifetime ago, so I'll refresh your memory on Quantum Break. Jack Joyce (Iceman) helps out an old friend (Little Finger) with some shady research. Things go terribly wrong, his brother (Merry the Hobbit) kinda dies, and Jack's soon embroiled in a reality-breaking conspiracy. The Remedy weirdness was relegated to live-action episodes that slightly differed depending on a few choices you made. Even though it's a little tamer than Control and Alan Wake, it was still a fun and slick adventure.
I liked it and so did RPS' review, if you'd like to read more about the blockbuster. Just ignore the "Quantum Break is out now on Steam" part - some things age badly.