Remedy's Quantum Break returns to storefronts and joins PC Game Pass
After some licensing issues left it in limbo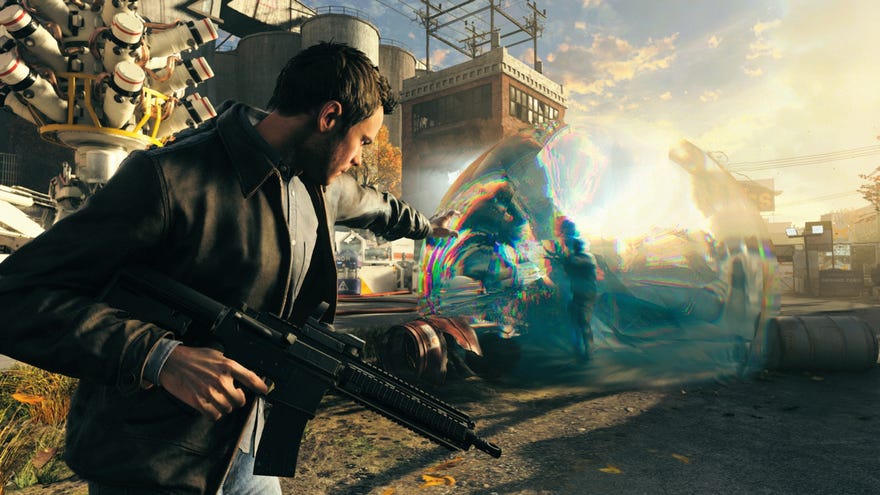 After a few weeks in time limbo, Quantum Break has returned to storefronts on PC and Xbox. Publisher Microsoft had said "some licences that expired" were to blame for its removal from Game Pass (for consoles), which was probably the same reason it was pulled from storefronts too. It's now rewound the clocks, available to buy, and as a nice bonus, it's joined PC Game Pass for the first time since it was previously only available on the console version of the service.
Quantum Break was the 2016 action-adventure from Remedy, the developer behind other offbeat shooters such as Alan Wake, Control, and Max Payne. The game followed a denim-clad scientist Jack Joyce on his journey to fix time after a freakish experiment left the world in stutters. There was also a live-action TV show tacked on in between chapters, showing off the game's Hollywood talent - it's got X-Men's Iceguy, one of the hobbits from Lord Of The Rings, and Game Of Thrones' Littlefinger.
RPS' review at the time was a little conflicted: "I love that they reached so high, but I really wish they'd thought harder about what it was they were trying to balance on as they did." Freezing enemies in a time bubble, sprinting toward them as they watch, and then whacking them in the face is still good fun, though. Especially since it's available at no extra cost if you're a Game Pass subscriber. So, why not try it out?
If you'd like to own Quantum Break instead, it's available to buy on Steam and The Microsoft Store for £30/€37/$40. There's currently an Xbox Game Studios sale on Steam, so you could also grab QB as part of two discounted bundles: the XGS Narrative Bundle (with Pentiment and more) and the XGS Classics 2 Bundle (with certified classics Kalimba and Ms. Splosion Man.)