Reopening The Battlezone - Bionite: Origins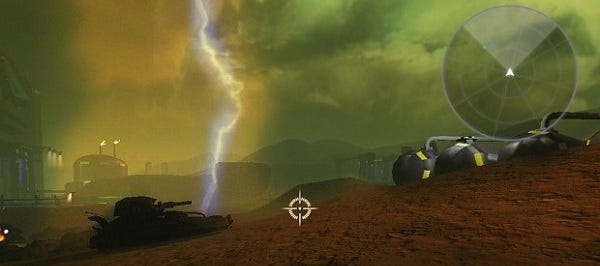 At this time of resurrection and rebirth, it seems apt to look at yet another Kickstarter project that aims to roll back both a stone and the years in order to bring glories from the past to walk our digital hallways once more. Bionite: Origins, already two years in the making, is an attempt to revive the play style of Battlezone '98, a hybrid of first person hovercrafting and strategic base building. I'm sure there are other much-loved properties in need of a successor, spiritual or otherwise, but I reckon by summer, Kickstarter will have them all covered. What makes Bionite a little different to many projects is that funding isn't being sought to begin development, but to continue it. A working alpha of the game already exists and the beta testing phase is imminent. Video evidence of the team's work is nestled below.
That's not a slow pan and zoom across some concept art, or a video of a man politely asking for your money, it's an actual game in motion. Admittedly, it's hard to gauge the depth of strategic involvement, the detail of construction and defense or the quality of the action, but such is the nature of trailers. The Kickstarter page itself contains plenty of information, along with another video that I've also posted below for convenience.
The $15,000 that Platoon Studios are looking to raise will go toward finishing off their work, hiring texture artists and server costs. As always, the fact that I'm writing about this doesn't mean I'm recommending anybody throws their bank account at it. However, it has the potential to be the kind of game I haven't played in a good while and, if Bionite is executed well, it could fill a gap in my gaming diet that I'd all but forgotten existed. I'll take a look at the beta as soon as it's available and report back with some thoughts on that.