EGX Rezzed Starts Tomorrow And RPS Will Be There: Here's Our Selection Of The Best Games & Talks
RPS @ Rezzed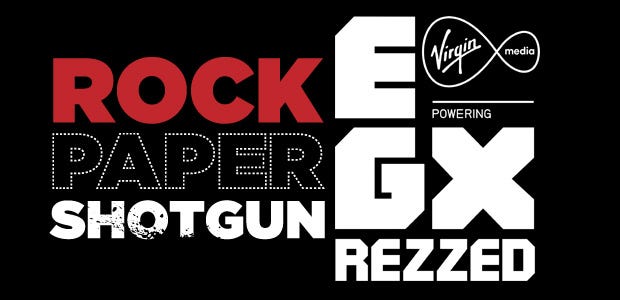 Rezzed is heading to London again this year and if you're lucky enough to be there, you'll see the best in gaming. There will be loads of games to play, loads of talks and panels to attend, and loads of cardboard conversations to be had. Below, you'll find some hand-picked highlights, including appearances from team RPS, talks from the likes of Larian, Campo Santo and The Creative Assembly, the RPS games room, and an evening in the pub with some of our writers.
If you're down at Tobacco Dock during the show, do say hello. We promise not to bite, provided Helsing's Serum does its job between now and then.
Games
Rezzed is host to lots of playable games this year. Over 160 of the blighters, including Dark Souls III and Total War: Warhammer. Blimey.
That makes picking the highlights rather tricky and, heck, we all enjoy different things. There will be a curated handful of games selected from the showfloor to play in our very own little corner of Rezzed, though. The RPS games room will contain the following multiplayer and singleplayer delights, so that you can sink into hallucinogenic worlds and find some strange solitude within the crowd, or make new friends while lobbing balls at their faces.
The games you'll be able to play in the RPS area are:
Overcooked is a co-op cooking game for 1-4 players. Working as a team, you and your fellow chefs must prepare, cook and serve up a variety of tasty orders before the baying customers storm out.
Egg on your face, bacon on the floor, everything on fire. Overcooked is Gang Beasts in a kitchen and the perfect way to break the ice (and the oven) with some new friends.
Stikbold is a glorious and intense sport, which will surely put your friendships to the test with fast-paced, hard-hitting and occasionally hilariously unfair gameplay.
I finished playing Stikbold's story mode last night and give the game the Adam Seal of Approval. It's funny, charming, chaotic and yet skill-based. And you can throw a jellyfish at somebody, just for kicks.
Gang Beasts is a silly local multiplayer party game with surly gelatinous characters, brutal mêlée fight sequences, and absurdly hazardous environments.
There is no such thing as a party without Gang Beasts, which is the greatest local multiplayer combat game I've ever played.
Event[0] is a game about building a personal relationship with a machine.
Please refrain from kissing the computers at Rezzed, no matter how rapidly your relationship advances. Event[0] has you talking to an AI, learning about its fears and anxieties, and trying to find a way home.
A love letter to Philip K. Dick
Embrace the strange in this game of conflicting realities and talking TVs.
Test your reflexes and awareness as you simultaneously guide two lovable balls through 101 brightly coloured challenges in the world's first concentration platformer.
I fully intend to play this game with as large a crowd around me as possible, simply to prove that good reflexes and awareness are not a prerequisite for the kind of Hard Graft I perform in the games journalism mines every day.
VA-11 HALL-A: Cyberpunk Bartender Action is a booze em' up about waifus, technology, and post-dystopia life.
A game in which you play as a bartender in a cyberpunk dystopia? "Bartender in a cyberpunk dystopia" is literally what my careers advisor wrote on the forms back in school.
Open World Tactics
A chance to play an early build of one of the most exciting tactical prospects in years.
The Creators
There are all manner of great talks and panels happening across the Friday and Saturday, but here are our highlights.
Friday, 2PM: Evolving CRPGs - Divinity: Original Sin 2
Swen Vincke is the only person I've ever met who loves Ultima VII more than I do. That and the RPG pedigree of his studio Larian, creators of the wonderful Divinity: Original Sin, means that when he talks, I listen. And he will be talking! At 2PM on Friday, Vincke will discuss the challenges involved in "giving multiple players pen-&-paper like freedom in a story-driven RPG". That relates to Divinity: Original Sin 2, which we've covered in detail.
Friday, 3PM: The Art of Firewatch
At GDC, we spoke to senior environment artist Jane Ng about her role in recreating the great outdoors. At Rezzed, you'll be able to hear from artist Olly Moss and animator James Benson of Campo Santo about their side of the story, which involved capturing the look and feel of the Wyoming wilderness from their homes in England.
Saturday, 1PM: Sunless Sea Retrospective
Failbetter's Sunless Sea is a wonderful marriage of exquisite storytelling and unnerving exploration. On Saturday, developer Liam McDonald and producer Lottie Bevan will discuss the base game and present the latest version of Zubmariner, the upcoming expansion which takes your Captain beneath the Unterzee.
Saturday, 4PM: Panel: The Present & Future of Narrative in Games
It's only our own John Walker hosting a panel of clever people talking about interactive storytelling. Failbetter, of Fallen London and Sunless Sea, will be represented by head writer Chris Gardiner, and Inkle (they of 80 Days fame) founder Jon Ingold will be on hand as well. The final member of the panel is Emily Short, whose work as both a creator and a critic of interactive fiction forms one of the mightiest bodies of work in games writing.
The Socialising - RPS Mixer In Association With Robocraft
You are, of course, free to talk to anyone at any time. We're not going to set rules about when and where you can have a conversation with your friends, but we are going to point you toward one particular location for merry-making and/or in-depth conversations about why Far Cry 2 is definitely the best in the series. You can even ask us why Dark Souls is the best RPG of all time. That's what we're here for.
We'll also be there to drink and meet friends new and old though, and we'll be doing all of that at the RPS Mixer. That takes place on Friday night at The Captain Kidd pub, just a short walk from the venue. Directions are here and we have a space booked for the evening. We'll be arriving around 7pm and staying until late, and we'll be in the company of the creators of Robocraft.
As well as showing their game at Rezzed, the Robocrafters are our associates for the evening, having kindly helped to make the gathering possible. If you're a friend of RPS (and if you're reading this, you are - we love you all), you'll be able to grab a drink on us and the fine folks at Freejam. And while you're there, you might just learn something about robotics.