Giveaway: 10,000 Robocraft Starter Packs
A head start for the new beta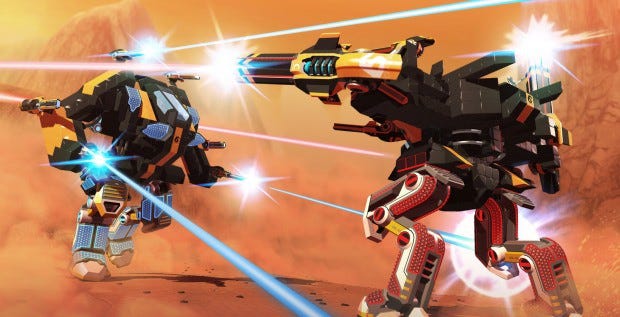 Robocraft is a free-to-play multiplayer game in which you build vehicles which drive or fly and then pit them against other players' creations in online battles. It's been in alpha for over a couple of years now but has just entered beta ahead of a final release this summer. We're giving away 10,000 Starter Packs for the game, which includes 6 Protonium Crates containing in-game items and a cosmetic Holoflag.
Here's a recent trailer if you want to see it in action:
That widget below will dispense your key in exchange for one of three actions: subscribing to our YouTube channel, following us on Twitter, or visiting our Facebook page. The latter will work even if you don't have a Facebook account, but you can follow us to hear first about future giveaways.
RPS Giveaway: 10,000 Robocraft Starter Packs

Once you've completed one of the above actions, hit 'Continue' in order to make the key appear. The keys are limited to one per user and the widget above will close automatically when all the codes are gone.
How to redeem your code
1. Visit the Robocraft store page on Steam and click the 'Play Game' button to install the game.
2. Start the game and click the log-in via Steam.
3. Press the Escape Key to bring up the pause screen.
4. Click on Enter Code and input one of the supplied serial codes before press confirm to get your free starter pack!