Ride buses forever in 4Ever Transit Authority
Ding ding!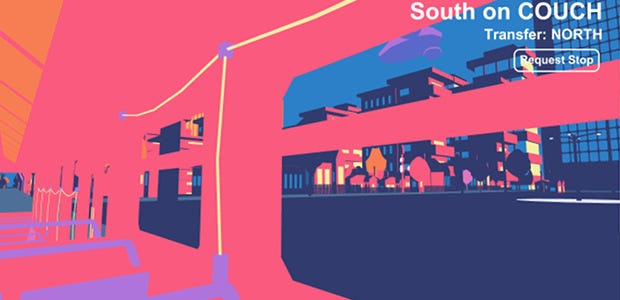 If you fancy going somewhere new today, hop on the bus in 4Ever Transit Authority [Itch page] and ride endlessly through procedurally-generated cities. Brendan pointed out the version released after 4Ever was created during the recent Slow Game Jam, and now I'm here to tell you it's properly finished after a little expansion and polish. The new version includes a map making the layout clear, auto-turn-around so you can let it run forever, updated music, and new buildings to see. Splendid.
So! 4Ever Transit Authority lets you ride colourful buses across colourful procedurally-generated cities. Watch out the window as the city goes by and quiet procedural music plays. You can change lines and direction at stops, slowly getting to see the whole city. AND it has that most important of window-watching behaviours: the ability to sit up or slouch down in your seat to adjust your viewing angle. I laughed the first time I found myself suddenly sitting upright to see a skeletal building site which was partially obscured by the window frame.
4Ever Transit Authority pay-what-you want on Itch for Windows, Mac, and Linux. It's made by Ian Endsley, Carter Lodwick, Marissa Deitz, Summer Ordoñez, and Dan Kelly. You might know Endsley and Lodwick better as Turnfollow, the name under which they've released such fine quiet games as Little Party and A Good Gardener.
If this transportation tickles your fancy, mate, do I have some games for you!
Endless Express is a train journey through a strange land, where routes follow a real-time timetable and catching the wrong (or right) train at interchanges will send you back - though it's focused more on stations than sitting on moving trains. The folks behind Endless Express also tried expanding/remaking it but I prefer the simplicity of the original. Pol Clarissou's Night Tune lets you drift through the night in the passenger seat of a car, listening to your own tunes on the radio as dark landscapes and headlights go past. Clarissou also made Offline, where you drive a spooky subway train. While The Train does become a Silent Hill-ish horror, you could happily stay in the starting carriage with other passengers and just watch the landscape go by. And Brendan points me towards Disorient on the Murder Express, where I suppose you could not solve the murders and simply hang around drinking booze. Oh, and absolutely do check out increpare's Subway Adventure to navigate the many lines of the Dream World of Sadness Metro.
I do like riding trains and buses.