Rising Storm is free for keepsies right now
WW2 Pacific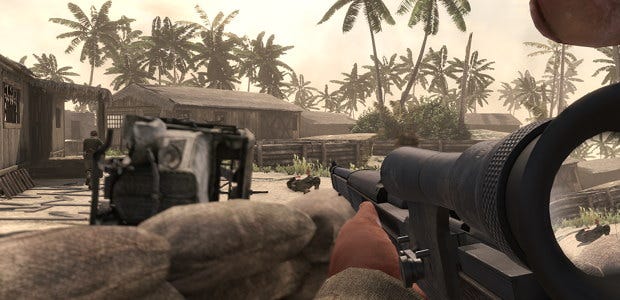 The WW2 Pacific Theater FPS action of Red Orchestra spin-off Rising Storm [official site] is yours to grab for free right now. The Humble Store are giving the game away to celebrate the impending end of their spring sale. Tim Stone will tell you that Rising Storm is one of the best simulation games and Alec will add that it's one of the best FPSs, which seems a strong pair of endorsements for a free game. Rising Storm 2 will launch in only a few days, on the 30th, so do come see what the series is about.
You've got until 6pm tomorrow to grab a Rising Storm Steam key free from Humble. Rising Storm also includes the multiplayer bits of Red Orchestra 2, so it's a double freebie. Our Alec says:
"Far closer to simulation than any Call of Duty or Battlefield, it's very much a specialist game, with a clarity of vision that delights its audience. Standalone RO2 expansion Rising Storm was where the more realistic (i.e. unforgiving, i.e. brutal) approach to warfare really hit its stride. The asymmetrical sides (American and Japanese), the glut of period weapons, a squad-based ethos and true variety to the maps. This is not about speedy supermen at war, and nor is it about chasing meta-rewards: it is about becoming very skilled at something very difficult, which is to say war."
Rising Storm 2: Vietnam did recently hold an open beta test but that's over now. If you want to check out what Rising Storm is broadly about, grabbing the first for free is a good way to go. Not that it wouldn't be a peachy gift even without a sequel coming.