Road To Joy: American Truck Simulator Images
Coast to coast courier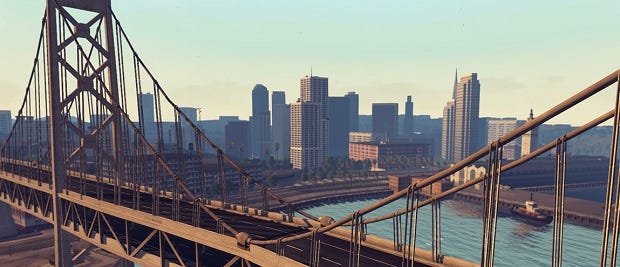 When Euro Truck Simulator 2 worked its way into my dreams, I hoped that it might be the first in a convoy of vehicular profession simulators. Sadly, OMSI aside, the so-called simulators that I've tried since have mostly mirrored John's experiences with Woodcutter Simulator 2013. I love the idea of performing tasks that don't involve guns death and destruction while journeying through a recreation of the real world, or something like it. The beauty of Euro Truck Simulator has little to do with the transportation of goods or business management - it's a game about driving and watching the world go by. That's why images of follow-up American Truck Simulator are as exciting as any stills I've seen this year. They're below.
Click for the full size versions.
Oh yes. No release date has been given but here are some of the plans.
We don't want to release even the initial version of the game (which frankly will only be a "slice" of the future big whole-continent 100+ cities vision of the complete game) with unlicensed vehicles. We have been through the trouble with ETS2, and it complicates things just too much. We want to set the bar high and push for maximum fidelity, and proper branding when vehicles are introduced into the game is very important to have our game taken seriously.

On the world content side, the team building the game has been growing, and we see real magic happening in the map! But as with everything, it is a balancing act - the more detail we put in, the longer it takes to build. We need to get our content creation pipeline into the best possible shape for the initial game release to be able to support it with a stream of additional content releases down the line.
How long until we see World Truck Simulator? How long until we can drop the trucks and just have a roadtrip game? How long until a multiplayer mod that lets us recreate Duel?