Inside Roblox, the game platform that's rivaling Minecraft
Roblox-heads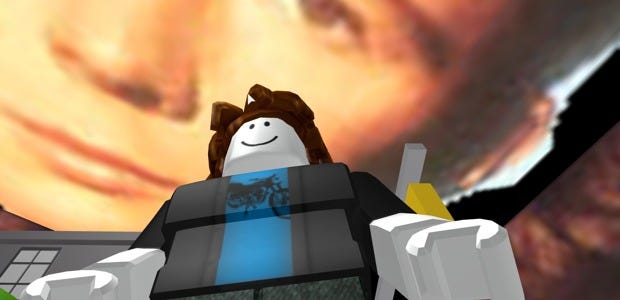 I'm camped at the end of a large hall, hoping my view over a tunnel leading to the capture point covers the enemy team's entry through the large windows and skylights. Distant gunfire rattles from the other end of the map and I see grenades popping on the point. And yep, I'm right. Someone jumps down from above and I shoot, taking them by surprise - 100 XP - but not before a buddy spawns on them. I'm down, killed by an AUG HBAR with Coyote Sight, Muzzle Brake, Angled Grip and Green Laser.
Roblox [official site] has come on some lately. Phantom Forces is a full-featured modern FPS that runs on Roblox, offering multiple map types with 32 players, a daily login bonus and ranks. It tracks kill-death ratios, its guns feature bullet drop dynamics, sprints into slide moves, Battlefield-style spotting, and hundreds of weapons and attachments. And you can be playing it, for free, in seconds from launching via a link on its Roblox web page, and it'll run smoothly on a basic PC. On the Thursday morning I try it out, nearly 4000 other players are online with me, and since it was launched in September 2015, it's been played over 120 million times.
But that doesn't make Phantom Forces Roblox's biggest game right now. That would be Jailbreak, an open world team game with 13,000 players online that morning and reaching 30,000 in the evening. Police players attempt to control criminal players by sending them to jail, while the criminals attempt to break out and rob banks. I played police and found a place in the prison where the criminals could break a door control in order to escape. As they bashed at it I'd nip in and handcuff them, sending them off to respawn in their cells for $25 a head.
Until, that is, another crim pickpocketed my door pass and used it to scarper through the police spawn room. I jumped in a police car to gave chase but soon lost my quarry and found myself driving through the desert and into the city, where I found a bank heist going on. Criminals were hovering overhead in a helicopter; four police cars were left in the street, lights and sirens going. I readied my shotgun, despite knowing you don't get rewarded for killing crims, and was promptly murdered by a gaggle of them as they exited the bank with $3000.
I'm not going to say these games are exemplars of the form. They all feel slightly off, as if their scale and ambition is being squeezed into a platform that's just a little too basic. But they're entirely playable. Take Counter Blox Roblox Offensive, a full-featured CS:GO clone. I couldn't find a button to show my gun off, a notable omission, but it's got the same tactics-driven immediacy, and all in a form that that's playable at no cost in moments on a parent's crappy laptop.
It's no wonder Roblox is so overwhelmingly popular among kids and teens. And there's so much variety. Big right now are tycoon games like Lumber Tycoon 2, a mix of idle game and crafting where you invest and reinvest funds to build and earn quicker. Murder Mystery 2, played 220 million times since January 2014, is still huge. A bit like The Ship, one player has to kill a target player with a knife while the others try to identify and take them down. I played a great game called In Plain Sight where one player watches public areas busy with NPCs through various CCTV cameras while the other players try to rob it without getting seen, a kind of SpyParty meets Five Nights at Freddy's. There are sim games like Work at a Pizza Place, a kind of multiplayer Diner Dash where some players take orders and others make the food in the kitchen.
Attracting thousands of players at peak times, they're leading Roblox's continuing explosion in popularity. At 48 million active players a month and breaking a million concurrent players at peak times, it's starting to rival Minecraft. It's also a fair bit older than Minecraft, originally launching in beta form all the way back in 2005.
Roblox is the Lego game that Lego could never have made, a platform for playing games entirely created by its own community. It was originally styled to fit that vision with a visual language of prefab bricks with studs and blocky minifigs for avatars. But over the past few years it's been shucking off that image; recently, makers got the ability to upload their own 3D meshes to their creations, and avatars are, bit by bit, getting more complex.
"Roblox is fairly powerful and I think a lot of people underestimate it," says Matthew Fulton, creator of Tradelands, in which you craft, trade and battle pirates on the high seas. He first got into playing Roblox games in 2008, taking special interest in flight sims, but he was disappointed with the quality of the plane models, so he decided to make his own. Then he learned Lua, the programming language that Roblox uses. "Before I knew it I was making my own flight sims on Roblox. Roblox made learning Lua really easy since I could look at other peoples' code and learn by example. A strong, loyal community for my game supported the development of multiple iterations of my flight sim which helped me stick with Roblox for the next few years."
Another developer who started making games in Roblox is Nelson Sexton, who struck gold in 2013 with Deadzone, a DayZ clone. He attempted to make a sequel but found Roblox struggling to support his vision, so he decided to make it in Unity, releasing it as Unturned, which is one of the most-played games on Steam (I wrote about it a while back here). "Roblox is still very limited in comparison to making your own game in an engine like Unity or Unreal, but they make it a lot easier and provide all the infrastructure," he says. "It seems to have advanced a lot towards being more fully featured like one of those game engines."
By infrastructure, he principally means multiplayer server hosting, which is the beating heart of Roblox. It finds lobbies and matches players up quickly and seamlessly for any game, whether polished or scrappy. Mind you, the breadth and scale of what Roblox is achieving with its multiplayer means that it's entirely common to face game-breaking lag in Phantom Forces and Counter Blox Roblox Offensive. Given that it's simple and free for both developers and players, such practicalities don't seem to really matter.
Well, I say 'free'. Much of Roblox's recent growth is down to a move made back in 2013 to allow players to convert its in-game currency, Robux (R$), into real money. Called Developer Exchange, or DevEx, it kickstarted a full economy in which makers wield all the weapons of mass monetisation in order to get Robux out of players. There's a huge market of items to buy for your avatar, items to buy in specific games. Games sell game passes, giving access to VIP rooms and areas where better gear is available, and VIP servers.
In the games I've played, I haven't come across anything particularly egregious or different to what you'd find on mobile or anywhere else, but it's faintly depressing that a generation of pre-teens and new game designers are immersing themselves in a rampantly commercialised world in which purchase dialogs and reminders of what you don't have are constant.
Here's an example: Fashion Frenzy is a game in which players have three minutes to find an outfit, mixing clothes, hair, hats and facial expressions, before going onto the catwalk to have their sartorial choices and performance voted on by the rest of the players. It's fun and cute, but the best clothes are in a VIP area, access to which costs a one-off 399R$. To buy 400R$ costs $4.95. But there's more: custom music is another 399R$, extended selections of props, effects, pets and emotes cost between 49 and 199R$. It's a social game: you don't need the best items to win if you've got the sass, but on the other hand, its social nature could well apply an extra dose of pressure to purchase. And remember, Fashion Frenzy is just one game among tens of thousands you can instantly switch to, each with its own set of stuff to buy.
And this is just the tip of the iceberg: Roblox itself has Builders Club, subscription tiers that cost between $5.95 ('Classic') and $19.95 ('Outrageous') a month that remove ads and give access to bonus gear and social features. You will, though, get roughly that value back over the month in daily Robux payments, a genius feature that keeps player money moving around Roblox's economy while also encouraging them to play every day.
On the other hand, DevEx is powering its game makers. "DevEx has definitely made a huge impact in the way that Roblox developers work," says Fulton. "They are much more invested in the quality of their games to ensure that they attract the most players for the longest time in order to make the most money. A majority of developers would probably not even be on Roblox if it wasn't for DevEx."
Fulton is hoping to earn around $50,000 a year from Tradelands, and this is a game on which he hasn't really been focused because he's studying for an engineering degree. "I suspect that the developers that devote more time to their games easily make six figures," he says, and he's right. CEO and founder David Baszucki said recently that the leading developers are currently making $1 million in annual revenue.
Let's talk DevEx exchange rates. In March, Roblox put them up from $.0025 per 1R$ to $.0035 per 1R$, meaning that while Roblox charges players $4.95 for 400$, developers get $1.40 for selling the same amount. When you also consider that developers pay Robux to promote their games on Roblox's website and for preferential listings, you realise that Roblox itself must be making an extraordinary amount of revenue.
Crucially, Roblox knows its future lies in its relationship with its creators, and right now it's a good one. "The current popular game devs on Roblox don't show any sign of quitting any time soon," says Fulton.
After all, Sexton's breakaway to Unity and Steam is a rarity. "I know there are popular people who had been on the site for years when I joined that are still active today," he says. "It's their community, their job, their hobby and they all know each other so there's no reason to leave. I'm not aware of anyone who's had quite the same luck as me making indie games outside Roblox so far, and nowadays there's no reason not to just make your game on there, but I know there are a lot of smart people on Roblox who could make something huge outside."