Roccat's Khan Aimo RGB brings LEDs and Hi-Res audio to its classic gaming headset
Khaaaaaan!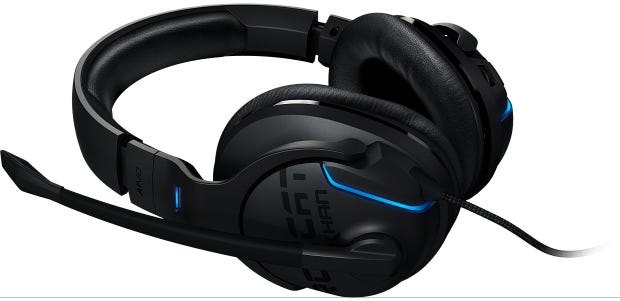 Hot on the heels of their Kone Aimo mouse that came out at the end of last year, Roccat are now following it up with an all new Aimo-themed headset. Dubbed the Khan Aimo RGB, this USB headset is about to bring Hi-Res audio and its 'smart' Aimo lighting system to your waxy ear holes.
Looks-wise, the Khan Aimo RGB takes after Roccat's dinky Khan Pro headset, complete with giant logos and spindly microphone. Weighing a mere 275g, the Khan Aimo RGB is a fraction heavier than the Khan Pro (which weighed just 230g), but Roccat claim it's still one of the lightest USB headsets around. With stainless steel sliders and memory foam ear cups, it should hopefully be pretty comfortable too, provided you don't have a weirdly-shaped, clamp-prone head like I do, of course.
The key difference, as you may have already figured out, is that this one comes with added RGB lights. I've always been a bit perplexed by RGB headsets as they're the one peripheral you can't actually see while you're gaming. Still, for those looking on at your magnificent RGB splendour, Roccat's Aimo lighting has a special trick up its sleeve.
As you may have read in my Roccat Kone Aimo review, Roccat's Aimo devices are meant to learn and adapt to the way you use them, prompting them to change colour depending on what you're doing. Admittedly, I've yet to see this take effect on the Kone (and I'm not sure how a headset will be any better at learning what I'm doing either), but I'm hoping I'll be able to get a better idea of what Aimo's capable of once I get a Khan in for review and start using it together with the mouse.
The Khan Aimo RGB's biggest feature, however, is that it comes with its very own integrated Hi-Res DAC sound card that's capable of producing 24-bit 96 KHz audio. Personally, I've never been able to tell the difference between Hi-Res and non Hi-Res audio, but people 'in the know' often say Hi-Res is meant to sound more detailed and authentic, like you're in the room where it was originally recorded. As a result, it should mean game audio is more immersive, but I'll have to wait until review samples are available before I can pass judgment.
It's also the first Hi-Res headset to come with virtual 7.1 surround sound as well, according to Roccat, but you can always disable this if you'd prefer to use it as an ordinary Hi-Res stereo headset. Naturally, the Khan Aimo RGB will support Roccat's Swarm software, too, which will allow you to set up its RGB Aimo lighting and play with various equalizer settings.
Available now for £120, I'll be testing the Khan Aimo RGB very soon, so stay tuned for the full verdict.