Squad Goals: Rocket League Free This Weekend, Witcher Collaboration Incoming
Geralt for top goal scorer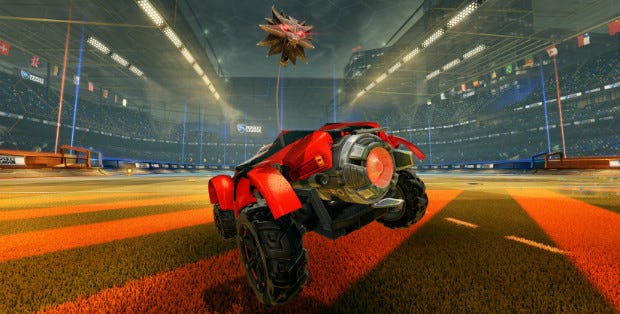 So what do you think of that Rocket League [official site], then? What's that, you haven't played it? Even though it was the RPS Best Game of 2015? Well aren't you in luck, because Psyonix's car-ball-cage-goal 'em up is free this weekend on Steam. Annnd a Witcher 3 crossover is in the works too, set to land alongside the free Hoops update heading our way this Tuesday. Happy Friday.
Depending on where you are in the world, Rocket League is free-of-charge until various times on Sunday. If you're based in the PST time zone that's 1pm. If your EST-bound that's 4pm. And if you set your clock against Big Ben's large and little hands that's 9pm. If you like what you see, you can also grab Rocket League with a 40% discount until Monday April 25.
Now, crossovers. Crossover's are Rocket League's thing, see. Be it Batman, Dying Light, Portal, Fallout or Back to the Future, its amalgamous cross-promoting reach knows little bounds. The latest partnership sees The Witcher's distinguished medallion-type logo thingymajig take the form of a battle-car antenna.
"Several members of the Psyonix team were big fans of The Witcher 3: The Wild Hunt last year," say Psyonix in an update. "So we talked with the awesome developers at CD Projekt Red to see if Geralt of Rivia's iconic Witcher Medallion could make its way into Rocket League! We found the feeling was mutual."
At a press trip a while back, I was given a chain with the same Witcher medallion-type logo thingymajig on it. In a display of abject press corruption, I use it to hang a Terminator figure from my bookshelf in what has inadvertently become my own little crossover effort. See:
Anyway, Rocket League is free on Steam until Sunday, and the Witcher Medallion Antenna rolls out with the incoming Hoops update this coming week.