Rover's Return: Don't Forget NASA's Curiosity Sim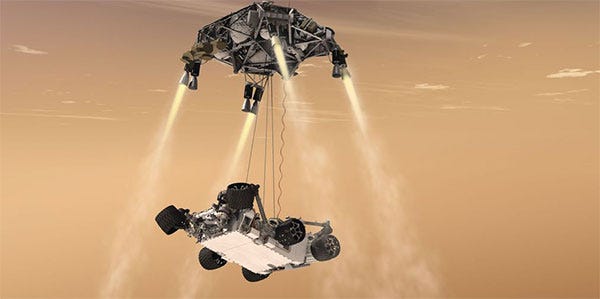 Look, I know I already posted about NASA's Unity-powered Mars exploration sim not three weeks ago, but given those marvellous men and women and their remote-controlled flying machines have just managed to successfully land a nuclear-powered robot on the Red Planet, it seems entirely timely to flag it up again. Particlarly because the game/sim is being updated with the Curiosity rover's progress and discoveries in something like real-time. Go look!

Maybe you can be there at the precise moment it's obliterated by the one of the Cybermen who've been hiding in the Gale Crater for the last 500 years. Or 'just' observe one of science's greatest achievements in action, admittedly in the form of some rather lousy textures. Still, I love the concept. Not as much as these guys do, though...

Bless 'em.