RPS premium supporters can claim their Park Beyond beta code today!
From 3pm BST/7am PT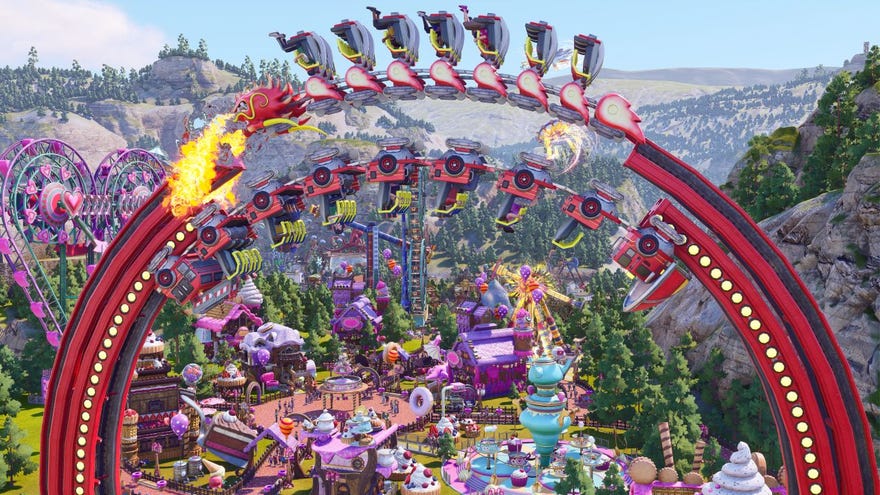 Earlier this week I announced that RPS Yearly Premium Supporters can claim a game key for the Park Beyond closed beta, running until Friday May 19th. This is your reminder that you can claim them today, from 3pm BST/7am PT - that's in less than an hour's time!
The keys have kindly been provided by the publisher Bandai Namco, and while I'm on the subject I also have to apologise for a miscommunication. In Wednesday's post I said you'd be able to download and play the closed beta build of Park Beyond as soon as you got the codes. You can still claim and download them, but unfortunately the build won't unlock for you to play it until Tuesday May 9th at 3pm BST/7am PT, when it's available for people who signed up to the beta test.
I'm so sorry for the mix up, and that you won't be able to celebrate the King's coronation by building a rollercoaster in the shape of his face. You can build a rollercoaster in the shape of his face as a post-coronation tribute, though, and honestly it probably wouldn't be beyond the tools of Park Beyond if you really tried. It's a new and very detailed theme park simulator, with many a thing to customise and ride to build, and I've been playing the same build as you will for the past little while.
It's pretty polished for a pre-release build, but be forgiving with your try-before-you-buy period, because it is still pre-release. Still, even with fewer days than I initially thought, you still get ages to play it, and it's shaping up to be a good time! Particularly if you're into simulation, because there are a lot of buttons and overlays and demographic needs to explore - but if you want to leave that and focus on building a bloody lovely theme park then you can do that instead.
Yearly Premium Supporters can claim their code for Park Beyond's Closed Beta Test by logging in to their ReedPop ID and visiting the Codes page on their account. All you need to do then is copy that code and paste it into the "Activate A Product On Steam" window like you would with any other Steam code.
If you're not a Premium Supporter yet, but like the idea of making teenagers throw up and/or building a giant ferris wheel, you can check out the details and sign up here. You get access to ad-free browsing, extra articles, and fun key giveaways like this one.
The only other thing you need to do is be ready at 3pm BST/7am PM today, May 5th. Happy theme-parking!