Welcome To Survival Week!
We like not dying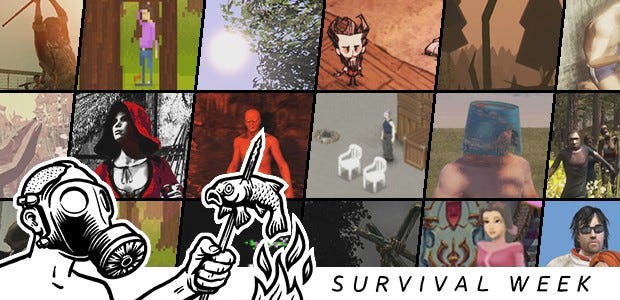 Welcome to Survival Week! Over the course of the next five days we're going to be celebrating videogames which make our stomachs rumble, cause our toes to fall off from frostbite, and abandon us to bleed out on some forsaken hillside. Survival games, we call 'em - and we love not dying.
This post mainly exists to alert you to what's happening. We've got a full week of features - diaries and guides, interviews and arguments, then even more diaries - and some will be going up later today. They can be recognised by the dapper person with the fish at the bottom of the header image.
We will of course still be writing news, features and Wot I Thinks about all manner of other games, so hopefully we'll continue to offer something to those of you who don't enjoy survival. You'll know already how this works if you're a long-term reader, because you'll remember Space Week, that exciting period in 2011 when Rock, Paper, Shotgun forged its way into outerspace, colonised the galaxy, and saved humanity from a long, lonely demise upon but a single blue planet called Earth.
Who knows what Survival Week could do.
This post will be updated as the week goes on with links to each of our posts, so feel free to bookmark it and hang out in the comments below. Alternatively there's the Survival Week tag page.
Here are the Survival Week posts published so far, updated each day.
Monday
Survival Games Are Important
Surviving Disney Princess: My Fairytale Adventure
The Clothes Off His Back: Neo Scavenger Diary #1
How To Make STALKER: Call of Pripyat A Survival Game
MISERY: A STALKER Mod Diary
Have You Played... UnReal World?
Supporter-only post: Surviving With The Sims
Tuesday
DoomZ: Alpha Impressions
Rules For Survival Games: Do & Don't #9
Field Notes: How Devs Recreate Wilderness In Games
Eidolon Diary: Diarising Eidolon
Have You Played... State Of Decay?
Supporter-only post: Our Treacherous Bodies