Lubricated: Rust Revving Up For New Features
Game's stable enough now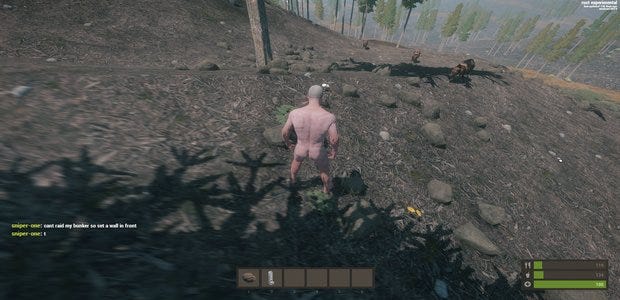 I've been fascinated by the rebuilding of Rust [official site], and DayZ too, and how different their developments are the second time around. The initial free versions of both open-world survive 'em ups were scrappy things, quickly growing and tossing features onto foundations that, it turned out, weren't quite able to support them. Starting over from scratch, both have moved more cautiously through Early Access, and I've enjoyed seeing how they grow at this slower pace.
Rust is about to enter a bit of a growth spurt, now stable enough to start boshing in more features.
"We've been trying to get to baseline, building a foundation, get shit stable. We decided that although it's not perfect and exactly where we're at, it's time to start pushing forward with adding features," creator Garry Newman said in a dev update on Thursday.
"Balance, performance and stability is going to obviously be affected by these new features so probably doesn't make much sense to hold off on new features until we get these things perfect."
What this means for folks playing is updates will be lighter some weeks, as 'sprint' bursts of focus on features "go long and take a couple of weeks to complete". At the end of that, you should have a shiny new feature to play with.
"So next week you'll start to see that coming through in a minor way, and over the next few months you should start seeing it coming through in more major gameplay ways," Newman said. Good-o!
It's common sense, but I enjoy seeing how Rust and DayZ aren't following the original order features were added to the originals, forging new paths through familiar territory towards a familiar waypoint then onto new, further destinations. But, uh, I imagine it might be less fun for some who are actually playing, not simply watching professionally from a distance.