Saturday morning MMO WildStar is dead now
Kill aliens no MMO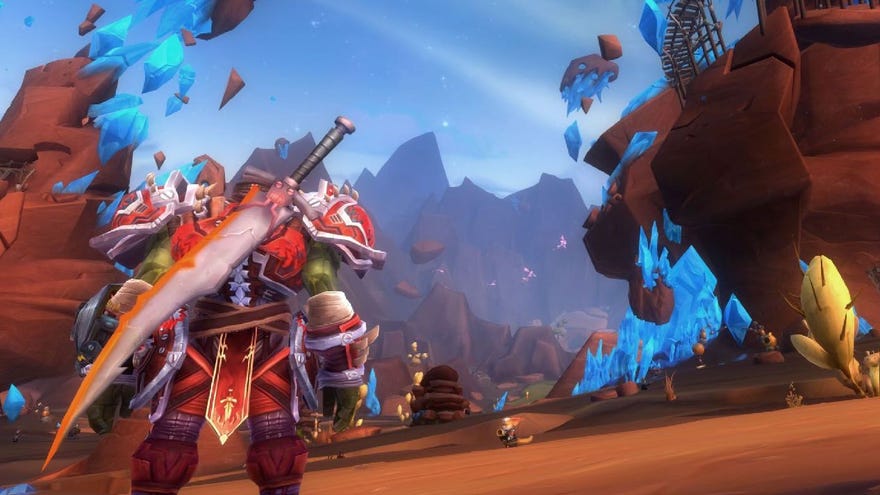 The sci-fi frontier of WildStar can be frontiered no more. The rootin' tootin' MMO shut down last night, ending four and a half years of exploration, mob killing, and house-having. There was a big party in a tiny village, where everyone gathered and laggily danced to celebrate the final moments of this cartoonish game of cowboys 'n' aliens. Bye bye, robots. Bye bye, vicious beasts of the wild. Bye bye, turrets. Bye bye, double jump. Byeeeee.
Here's a video of players marking the final moments of the MMO at the snowy Wigwalli Village. They do this by transforming into cupcakes.
For those who didn't play, it was a fairly traditional MMO, set on the distant planet Nexus. You played as trigger-happy engineers or slicey dicey fighterfolk, among other classes.
"In terms of how it feels to play," said Pip in her three-part WildStar review back in 2014, "it's not a million miles away from World Of Warcraft." But she also said that it had a sense of jolliness that made the mob-clobbering better than your average day down the XP mines.
"I confess I quickly fell away from World Of Warcraft – a combination of finding the early questing monotonous, not warming to the art style and living off partially defrosted Scotch pancakes and dubious clotted cream because of 6am bedtimes and not being awake when the shops were open. WildStar's tone reminds me of the joyous humour of old Cartoon Network shows as well as throwing up echoes of Joss Whedon's Firefly. That's not to say it does everything perfectly but it's this mood – this sense of fun – which permeates the entire game and is threatening to bring the Scotch pancake problem back into my life."
Yes, we still miss Pip.
The cartoony online bug-stomper didn't seem to find its audience though. It went free-to-play three years ago, and developers Carbine Studios slapped the subtitle "Reloaded" to the end. WildStar Reloaded's free-to-play gubbins was "surprisingly unobtrusive", said Angus Morrison upon revisiting the planet. But that move doesn't seem to have made the sound of pinging bullets appealing to enough folks. So three months ago publisher NCSoft said that they'd be closing down Carbine Studios, and refunding players who had recently bought stuff in the game. Last night, those final moments came to pass.
Bye bye, WildStar. Bye bye.