Screenshot Saturday Mondays: hand-drawn horror and blocky battlemechs
Admiring attractive and interesting indie games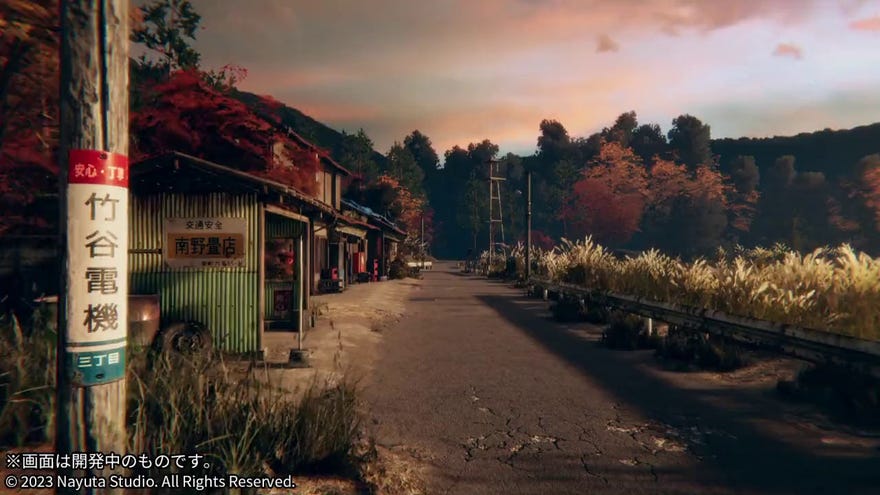 Every weekend, indie devs show off current work on Twitter's #screenshotsaturday tag. And every Monday, I bring you a selection of these snaps and clips. This week, my eye has been caught by mech battles, Japanese horror, colourful farming, a hand-drawn horror game in the Doom engine, and plenty more. Come look!
I always like the look of games from the gang behind Revenge Of The Titans, and that holds true for Battledroid (coming to Steam), a game about building mech armies and bases:
Battledroid.

Chuncheon G0M-4 Heavy Infantry. Slow, unarmoured, but 2 * 2 machine guns = pew pew pew pew.

🤖 #screenshotsaturday 🤖 #battledroid 🤖 pic.twitter.com/W2TnuTcpL2

— Puppygames - making Battledroid (@puppygames) February 25, 2023
Casting 3D lighting on 2D sprites in The Snow Is Red (prologue available on Itch.io):
Testing Normal map on character sprite. I think I will keep it. #madewithunity #indiegame #vndev #visualnovel #screenshotsaturday #pixelart #PS1 #lowpoly #ノベルゲーム #ドット絵 #horror pic.twitter.com/GBeP0qj3hr

— JADE (@gumustdo) February 26, 2023
Spooky scenes from a Japanese indie team in this horror game, which auto-translate tells me has the working title Utsuromayu:
開発中の3D和風ホラーゲーム
「ウツロマユ(仮題)」のプレイ動画を公開しました
2023年内にSteamで販売予定です

たくさんの方に遊んで頂きたいので、もしよろしければ拡散やいいねで応援して頂ければ幸いです
よろしくお願いします#screenshotsaturday #madewithunity #horrorgame #indiedev #gamedev pic.twitter.com/uv7227wJBz

— UTUTUYA@3D和風ホラーゲーム制作中 (@SbbUtutuya) February 25, 2023
I do not appreciate this staring statue in co-op survival horror The Night Watch:
👁️ Always watching... #screenshotsaturday #gamedev #indiedev #horrorgame pic.twitter.com/n64T8rKGKq

— Connor (@conlundstedt) February 25, 2023
I like that Stardew 'em up Fields Of Mistria (coming to Steam) has automatic Night Mode for the UI:
So satisfying to watch the HUD colors change with the time of day!☀️🌙 #ScreenshotSaturday pic.twitter.com/OG8zzcPogn

— Fields of Mistria (@FieldsofMistria) February 25, 2023
Colourful splashes of violence in this unnamed shoot 'em up:
It still doesn't have a name#GameMaker #gamedev #indiedev #screenshotsaturday pic.twitter.com/BH1r4DMmIh

— Jugistus (@JugiGD) February 25, 2023
Lighting flashes and hand-drawn strikes in He Came From Beyond, a Lovecraftian game made inside a modified version of ye olde Doom engine:
Looks like nothing special but getting this lightning strike to look relatively powerful took a lot of sneaky tricks.

Challenge #1: don't break "even, flat lighting everywhere" rule so it still look like a drawing.#screenshotsaturday #gzdoom #indiedev pic.twitter.com/de7MVRPE1j

— He Came From Beyond (@he_beyond) February 25, 2023
An interesting mood in this, which I believe is still a bit of an unnamed experiment:
waiting someplace new #screenshotsaturday #indiedev pic.twitter.com/r54M3KP1Mx

— JacobPotterfield (@potterfield_art) February 25, 2023
The journey from sketch to level in Go Fight Fantastic (coming to Steam):
We just LOVE to see before and after photos, don't you too? 😍More final art for chapter 2!

Wishlist: https://t.co/NLVpoiy2pg#screenshotsaturday #gamedev #art pic.twitter.com/OT6dyovXDI

— ⭐️ Dinomite Games - Go Fight Fantastic!⭐️ (@Dinomite_Games) February 25, 2023
A sloppy fight in Renaine (coming to Steam), and I certainly appreciate seeing this rather than just practiced and polished perfect runs:
usually I post clean gameplay here but I wonder how a clusterfuck messy fight from an outtake will go#screenshotsaturday #gamedev 🦑 pic.twitter.com/a9SP8JUoRn

— Squidly 🦑 - Weekdaily GameDev Streams! (@squuuidly) February 25, 2023
A clash of styles in Imperfect (demo available on Itch and Steam), a horror game inspired by the art of Gustave Doré:
Pushing the "fish out of water" aesthetic for Imperfect lately. Stark contrasts and misplaced oddities. #screenshotsaturday #gamedev #leveldesign #indiedev #ue5 #madewithunreal #videogames #horror #HorrorCommunity pic.twitter.com/DbGcQn1JzQ

— Walter Woods (ImperfectGameDev) (@ImperfectGD) February 25, 2023
What else caught your eye this weekend, reader dear?