Shadow Warrior 2 gets new missions and guns for free
Bang bang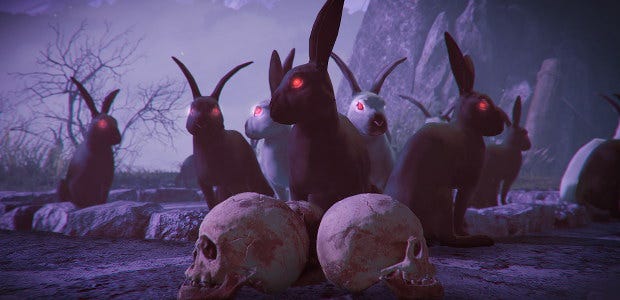 Seeing as Shadow Warrior 2 [official site] has been out for five months, by now you might have murdered millions of demons with every one of its dozens of weapons and be ready for something new. Good news: developers Flying Wild Hog today released a free 'DLC pack' adding new missions, perks, and weapons to the first-person looter shooter. Expect everything from a Medusa Ray to trouble with demonic rabbit lords. Have a look at the new weapons in this trailer:
Shadow Warrior 2 publishers Devolver Digital explain:
"The Shadow Warrior 2: Bounty Hunt Part 1 DLC piles on the action with fourteen wild new missions, two dazzling new weapons, and four tantalizing new perks for Lo Wang and the gang. Battle alone or with up to four ninjas in crime in some of the most over the top missions yet like Plague of the Bunny Lords, 50 Shades of Shade, and Danger Zone on Mt. Akuma. Strike at the demon hordes with new perks like Revenge and Shared Pain or arm up with the new Medusa Ray and EX-GF01 minigun."
Adam's Wot I Think said he was already overwhelmed by the sheer number of weapons but maybe one of these could be your new bestie.
The DLC is now live on Steam. Shadow Warrior 2's page on GOG still only mentions the last free DLC so, er, dunno when it'll hit there.
The press release announcing all this said Shadow Warrior 2 would get a 25% discount to celebrate this launch but I'm not seeing it live on Steam or anywhere yet. Soooon?