Shadow Warrior 2 Getting Free New Challenge Mode
Weapons and missions too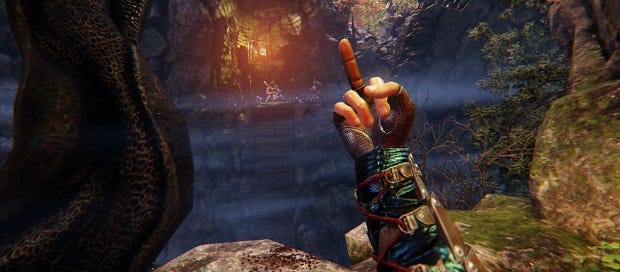 Shadow Warrior 2 [official site] is "anarchic, excessive, ridiculous, occasionally spectacular and almost entirely wonderful", our Adam will tell you. Now, I'm not saying you should do and believe everything Adam might tell you - please don't worship him as a minor ale deity, not again - but he's not wrong there. Now that it's out, developers Flying Wild Hog and publishers Devolver Digital are gabbing about what's next. Freebies including new missions and weapons, for starters. They're a bit vague but hey, more of a good game is coming, and that's good.
As they're not too specific, I'll quote the blurb from Devolver so you can't roll your eyes and wonder what I've left out:
"The first piece is the introduction of the first game's ultimate katana and fan favorite, the Nobitsura Kage, into Shadow Warrior 2. Coming updates to Shadow Warrior 2 will include new missions and an ultra-hard challenge mode alongside new weapons, items, and co-op ninja characters."
The game's hardly short of weapons but hey, maybe they'll add some cool stuff. New co-op characters sounds nice too. It all sounds nice. Sure!
Also coming up with new things (and possibly due out any second now) is update 1.1.3.0. Shadow Warrior 2 game director Michal Szustak explains:
"We're adding some new features like insane difficulty tiers, rebalance of some skills and drop system, better crafting and a lot of bug fixes, so it needs to be tested properly."
It was due out yesterday but is, last I heard, now expected some time today.