Want more Wang? Shadow Warrior 2 adds trials
Leap right in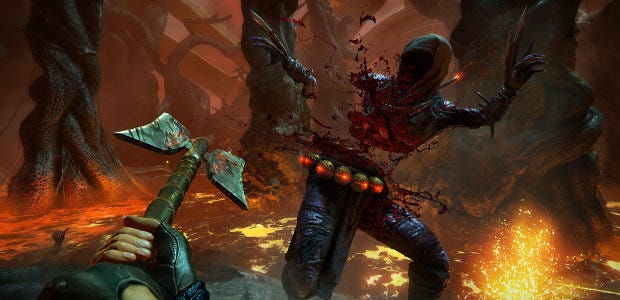 Shadow Warrior 2 [official site] is hardly story-heavy but if you simply want to launch yourself into a horde of monsters with your swords swinging, a new update has your back. Developers Flying Wild Hog last night boshed in trials offering a series of rewards as you murder the heck out a load of demons. Why delay? Murder today!
Here's what publishers Devolver Digital say about last night's update:
"Shadow Warrior 2's The Way of the Wang DLC opens up a new area within the game's hub town, presenting seven special trials for Lo Wang to unlock and overcome. Players will be able to earn new crafting abilities, weapon gem slots, and base weapon upgrade perks upon completing each new trial with the prized Fist of Gozu weapon waiting for those that complete the final Trial of the Ancient God mission. Shadow Warrior 2 fans will also find three new 'Insane' difficulty levels for the game and five new achievements waiting for them in the DLC pack."
Well, they call it 'DLC' but c'mon you big sillies. "In my day we'd call that a 'patch'" etc. but I will accept 'content update'.
Devolver have previously mentioned plans for new weapons, items, and co-op ninja characters so hey, we can at least we expect more playpals in the future too.
Shadow Warrior 2 has a 25% discount on Steam and GOG this weekend too, bringing it down to £26.24/27,74€/$29.99 or thereabouts. Here's a peek at Wang's new games: