Shantae: Half-Genie Hero jumps, climbs, and swims out
Boingo!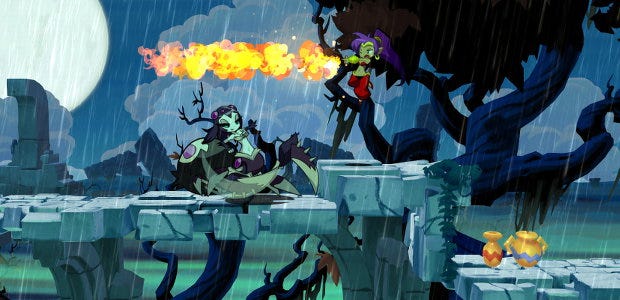 Shantae: Half-Genie Hero [official site], the crowdfunded fourth game in the platformer series starring a genie who can transform into animals, launched today. I've not paid much attention to the revamped re-releases of Shantae's old handheld games I'd seen bouncing on PC but I'll take Half-Genie Hero raising $776,084 on Kickstarter as a sign that many folks think the series is quite good and want more. Half-Genie Hero is the first in the series made for big screens so let's have a gander in the launch trailer below.
That's Shantae there, leaping around, whipping enemies with her hair, and transforming into different creatures to use their abilities. Magic!
The game's made by WayForward, the jumpy folks behind games including the remakes of DuckTales and A Boy and His Blob. Shantae is a creation of their own, mind.
As I say, I don't know much about Shantae but fans paying up that much for a Kickstarter - and without the usual 'big' names that draw attention - must suggest they're pretty good stuff. Say, if you backed this (or picked it up otherwise), what are you making of it?
Shantae: Half-Genie Hero is £13.49/17,99€/$17.99 on Steam, which includes a small launch discount for the next week.