Space Hulk: Deathwing becomes Enhanced in May
One more push, for the Emperor!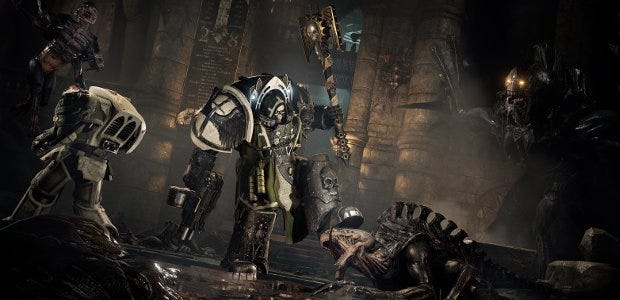 Polish your crotchskull and prepare to demonstrate renewed devotion to the Emperor, as Space Hulk: Deathwing will officially become the Enhanced Edition on May 22nd. This is the last in a series of free updates intended to expand and improve the squad-based FPS, which had the looks of Warhammer 40K but didn't have the touch. It was too janky and just too thin, which is a shame because it has such lovely Gothic spaceships and such big crotchskulls. Fingers crossed this update can find that magic. Not that I believe in magic; that would be heresy. Ah yes, I love the Emperor, I surely do.
While Space Hulk: Deathwing - Enhanced Edition will arrive on PlayStation 4 in one go, parts of it have already been patched into the PC version. Over the past year, developers Streum On Studio (who also made the delightfully ambitious jankfest E.Y.E.: Divine Cybermancy) have added randomised missions, a new Chaplain class, and other bits.
So what will officially becoming the Enhanced Edition mean? New enemies, for starters. A weapon customisation system letting Space Marines cover their guns in scopes and knives, as shown in this video. An armour customisation system with all sorts of pretty doodads, as seen in this over video. Other stuff.
Is this enough to pep it back up? I hope it helps. I never expected Deathwing to be mega-great but I was hoping for another solid 7/10 action game and, as Alec's Space Hulk: Deathwing review explained, it was not there yet.