Splendid: The Europa Universalis IV Demo Is Here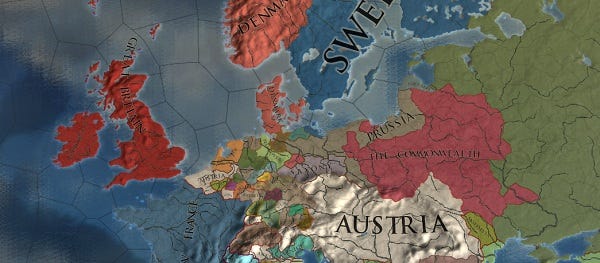 Cancel all plans. Paradox have just dropped the Europa Universalis IV demo on to Steam. They could have waited until the end of business hours on Friday, leaving it there as a pleasant treat for weary commuters to discover as they crack open the first beer of the weekend, or take the first sip of calm-inducing brewed leaves, but no. They have released the demo on a Thursday afternoon. Enjoy the next few hours, as the office walls close in and dreams of conquest swim through your mind. Enjoy dragging yourself to work tomorrow, leaving a world of possibilities behind. I love pre-release demos, even if the timing is cruel. Check below for demo details.
A good mix of nations are available, allowing EU III players to explore some of the new and updated systems:
In the demo version of Europa Universalis IV, players can take up the flag of one of four available nations, sampling the trade system as Venice, going to war as the Ottoman Empire, founding new colonies as Portugal, or engaging in shrewd diplomacy as Austria. Demo games will last for 28 in-game years and include an extensive tutorial and hint system. The demo will not include multiplayer capabilities, and please note that the abilities to save & load have been disabled.
Paradox also confirmed Steam Workshop support and cross-platform multiplayer.
...the battle for conquest will take shape exactly as players desire, thanks to support for Steam Workshop for game modifications, and cross-platform multiplayer which will allow rulers to clash with the rivals of their choice across Windows, Mac, and Linux. Both Workshop support and cross-platform play will be included at launch.
If you've never tried a grand strategy game in its multiplayer guise before, now is the time. I'll help to set up some communities after launch.