Squad Up: MoW:AS Getting Update, Sequel (!)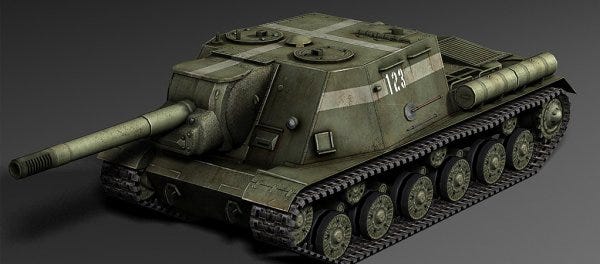 Men Of War: Assault Squad's men of development have sent word that they expect to fling an update at the game later this week. There's also going to be more DLC to follow, and then more to follow that, if they word of DMS' Chris Kramer (below) is to be believed. Which it is.
He also says: "we are discussing a new title for the series, which is an entire rework of the present game from the ground up", which is quite, quite exciting.

The patch includes about a bajillion new things, mostly fixes and balances, but also some new weapons and stuff, including two new spot-the-difference tanks (pictured). The new DLC will include five new multiplayer maps, and a new game mode, which we asked about...
RPS: Can you tell us a bit about how the new game mode will play out?
Kramer: Day of Victory provides an interesting and refreshing change from the game modes currently in Assault Squad. It is comparable to a "king of the hill" style mode, where you succeed by capturing a single fortified flag in the center of a map. We also changed the resource allocation and starting budgets of players, so your payback rate is slightly higher, but resources come in a bit slower. These settings allow players to enjoy the mid game longer, utilizing light/medium tanks effectively without the fear of heavy armor and punishing them slightly less for making mistakes. This combination of a single flag coupled with our new resource system leads to a very intense, action packed game mode perfect for a quick round or a ranked match.

RPS: Are the new maps all for the new game mode?
Kramer: Yes, all the new maps allow for Assault Zones, Combat and Day of Victory game modes. They are specifically designed and balanced to fit each mode.
RPS: What can you tell us about future plans for the Men of War games?
Kramer: Currently, we see a lot of opportunity to make Men of War: Assault Squad an even better experience. Our plans are to continue working on additional patches and DLC, which will deliver exciting content, improved gameplay mechanics and new features to enhance the overall quality of the game. For example, we are working on a small, but significant multiplayer add-on to Assault Squad, which likely will be available for free to all our players if we continue our DLC success. Lastly, we are discussing a new title for the series, which is an entire rework of the present game from the ground up. It is too early to talk about details, but one thing is for sure, we are eager to enhance this series significantly.
RPS: Thanks for your time!