Star Wars-O-Rama: Battlefront 2 And Beyond
No Star shortage here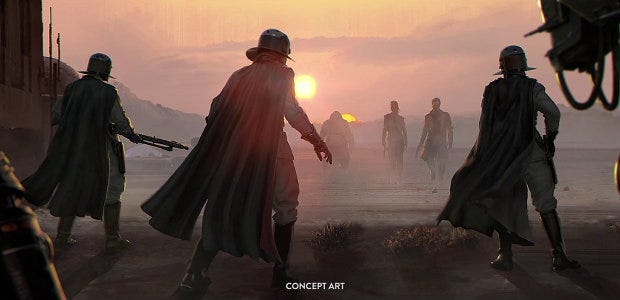 Many, many Star Wars games are coming from Electronic Arts, that much we already knew. EA took to their E3 stage today to repeat that, this time showing a few behind-the-scenes peeks with concept art and mocapmen from Battlefront II, Visceral's mysterious Star Wars game, and Respawn's equally mysterious own long time ago 'em up. Expect Battlefront II next year and Visceral's game in 2018. Here, have a look:
The E3 presentation did also bring a few more details on various upcoming games.
Star Wars Battlefront II is coming next year, made by DICE with Motive Studios. "We're building on the foundation of the first game," Motive general manager Jade Raymond said on stage. "We're listening to our players and adding more of what you want, including content from the new films". Hey, maybe this time they might not release a game without singleplayer to meet a movie launch. Just an idea.
2018 will bring the Star Wars game from Dead Space gang Visceral Games. It's an "action-adventure" game which Raymond says has "an original narrative in the Star Wars universe with new characters". (This is the one former Uncharted superwriter Amy Hennig is working on.)
As for Respawn Entertainment, Raymond says the Titanfall developers are "exploring a different Star Wars era in their own third-person action-adventure games".
Do check the rest of our E3 2016 posts, previews, odds, ends, and gubbins.