SC2: Legacy Of The Void Adds New Co-Op Commander
Protoss pals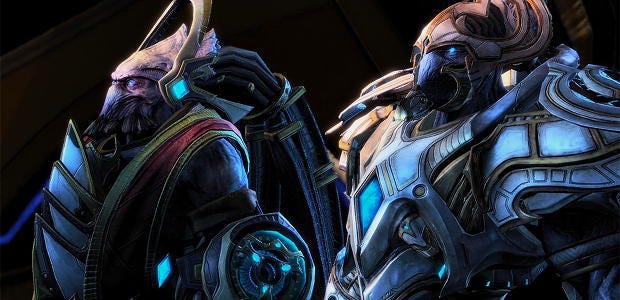 Blizzard plan to sell extra characters for the co-op missions in StarCraft II: Legacy of the Void, different commanders with their own abilities and unit lineup, but they've started with a freebie to whet your appetite. (Note: don't confuse your idioms and whet your whistle, or you'll have an awful time at your next rave.) A patch this week added the engineer Karax, who's big on mechanical units and orbital bombardment.
Karax fields high-tech units like the Carrier, Colossus, Immortal, and Mirage, Blizzard explain. They go well with his abilities, like passive regeneration for mechanical units and faster production. Oh, yes, and he can blast all sorts of beams and lasers down from orbit to scorch the battlefield.
I don't know if you've heard - you probably haven't - but I've heard that the only way to be sure is to take off and nuke the entire site from orbit, or so I've heard, but you've probably not heard, because people so rarely say that. I think I've reached the point where I'll start pouring drinks over people who quote that bloody Aliens line all the time.
"In the future, additional commanders will be offered for purchase," Blizzard say, "but as the first commander being added to Co-op Missions, we're giving Karax away absolutely free to all Legacy of the Void players." No word yet on who, what, or when.
Karax arrived in patch 3.1.0, and you'll find the full notes for that this-a-way.