Stardew Valley: Harvest Moon-y Country Living Now Out
He lives in a house, a very big house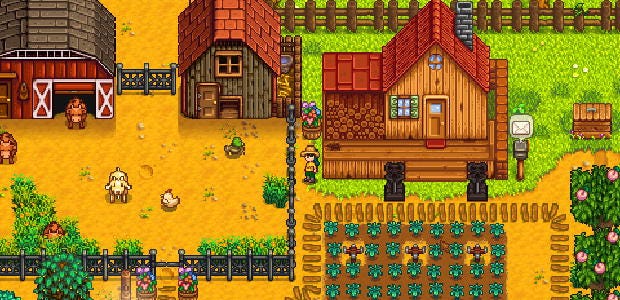 If you've wanted a game like Harvest Moon or Animal Crossing on PC, hey, Stardew Valley [official site] came out on Friday evening and is very much that sort of game. That's you sorted, off you go.
If those names mean little to you... Stardew Valley's a country life sim/RPG/thing about a simpler life of growing crops, raising animals, fishing, going on adventures to duff up monsters, befriending townfolk, finding love, crafting, collecting, building and all that. It's proving quite popular.
Stardew Valley sends players out to their grandfather's farm then leaves them to decide a direction to their new life. You can try to run the finest farm in all the valley, build and decorate a grand house, conquer monster-filled caves beneath the town, find and collect donations for the local museum, catch all the fish, befriend everyone in town, or, you know, do a bit of everything. It runs to an accelerated daily, seasonal, and annual cycle, so there's pleasing routine to it.
I spent most my weekend rustling around real plants (ace Glasshouses at Edinburgh's Royal Botanical Gardens, I tell you), but I did see a bit of someone else playing Stardew Valley. It looks nice and cor, opening on a note of "Your life is a drudge, office drone, so flee the ratrace and start a new life on your grandfather's farm" is pretty full-on. More games should open with "Hey, you there, you playing this, your life is AWFUL but I guess you don't even have a grand inheritance, so this game will have to do."
Over a thousand reviews are already up from players on Steam, 98% of them positive. That's not bad, that.
Creator ConcernedApe has been busy since the launch, releasing several patches - one, two, two-and-a-half, three, three-and-a-quarter - over the weekend.