Stardew Valley adding multiplayer on August 1st
How will all four players date Abigail?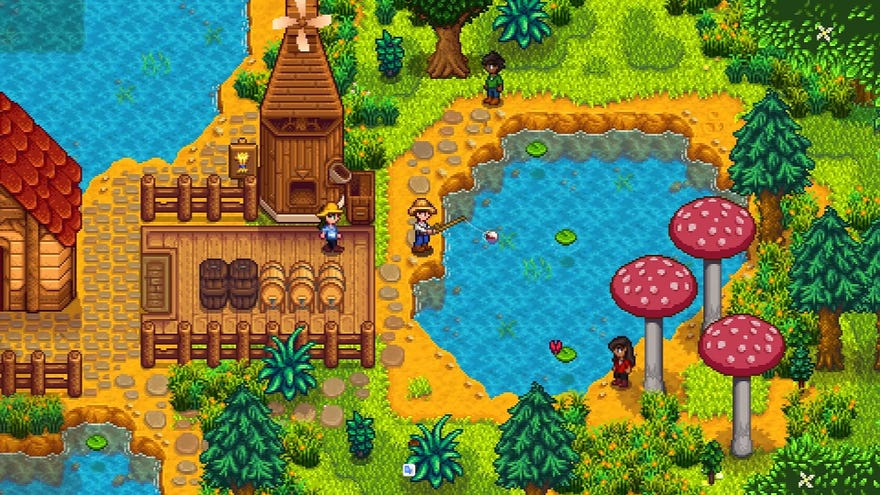 You'll be able to play relaxing farm life sim Stardew Valley with up to three friends this August 1st. The long-awaited multiplayer mode has been available as an opt-in open beta since late April, but the developers reckon it's finally ready for prime-time.
The multiplayer update includes some new additions to the world, online or off, including new quests, heart events and (most importantly) hats for horses, as detailed in the (tentative) patch notes here. Below, a trailer giving us a peek at what communal farming looks like in action.
Veteran players hoping to rope in friends won't have to worry about losing the bustling farm you've built up. While players can start fresh together, you can also invite friends into your existing single-player world. The multiplayer lets you do everything you could offline, from fishing to dungeon crawling. It also adds a few new features to make the experience a little smoother, like text-chat with emoji support. Each player also gets their own cabin to live in, but there's nothing stopping you hanging out in each other's houses.
Wooing and smooching on the townsfolk was a major part of the solo experience, and online every player can take their pick from the town's plethora of eligible singles. If you want to farm til' death do you part, you can craft a wedding ring and propose to another player. Amusingly, you can also get a divorce (or ban them from your server) by demolishing their cabin. A little dramatic, perhaps, but it works.
Addressing one of my main concerns, there's also a difficulty setting to tighten up profit margins if you don't want your communal farm to take over the local economy overnight. This is a game about sustainable rural living, after all, and you're not trying to be the next Joja Corporation, are you?
Stardew Valley is out on Steam, Humble and GOG for £11/14/$15, but it's down to $11 (for the next 24 hours) over on Chrono.GG here, which includes a Steam key.