Steam's Autumn sale has begun - here's some picks
Abandon hope all ye who buy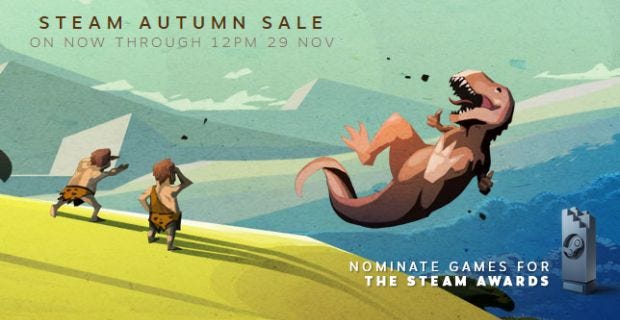 Aside from starting a new tradition of unusually-named Steam Awards, Valve have also pulled out their worn and adored bargain bucket and have begun to fill it with games you'll enthusiastically buy and probably never play. Yes, it's their Autumn Sale. In the streets, the apocalyptic jockeying for TVs and blenders has started. The moon has turned blood red. And I looked and behold a pale horse, and his name that sat on him was Black Friday, and sales followed with him.

Here's just some general picks that I'm guessing a lot of people will be interested in (listed in GB crapquids and US dollar bills). I've ordered them in ascending-however-the-hell-I-like. Click on the price for the Steam page, or the title of the game for our articles about it.
Cities: Skylines is £5.74/$7.49 - Build large skyscrapers and pump raw sewage into the homes of your enemies.
The Witcher 3's GOTY edition is £20.99/$29.99 - A monster hunter visits his friend, Robert Baratheon (includes the Hearts of Stone and Blood and Wine DLC).
The Witcher 3 alone is £12.49/$19.99 - A monster hunter names his horse after his favourite insect.
DOOM is £13.19/$19.79 - Shoot demons who have broken their anti-social behaviour orders.
Dishonored is £2.63/$3.29 - Explore a steampunk city and play as yourself, a rat.
Deus Ex: Mankind Divided is £19.99/$29.99 - Bring equality to the streets of Prague by stabbing everyone with equal force.
Far Cry Primal is £19.99/$24.99 - Live your dream as a cave man on drugs.
Far Cry 4 is £12.49/$14.99 - A murderer becomes best friends with a fashionable dictator.
INSIDE is £11.24/$14.99 - Go for a pleasant swim with the girl from The Ring.
Dark Souls III is £25.99/$38.99 - Prepare to not understand what "poise" is or does.
Battlerite is £11.24/$14.99 - Dota 2 without lanes.
Just Cause 3 is £9.99/$14.99 - Far Cry with a grappling hook.
Rainbow Six Siege is £14.99/$24.99 - Defeat wave after wave of vicious walls and ceilings.
Invisible Inc is £4.49/$5.99 - I've never played this.
Civilization VI is £44.99/$53.99 - Cheapskates wouldn't give you more than a fiver off.
Finally, here's some personal picks:
Stardew Valley at £7.36/$10.04 - I bought this for my girlfriend three weeks ago and I have not heard from her since.
Stellaris at £23.44/$26.79 - Discover majestic stars, lush planets or mysterious nebulae, and then rename them "Toilet Bowl".
XCOM 2 at £17.49/$29.99 - You have a 95% chance to succeed in this game. But you won't.
Tom Clancy's The Division at £19.99/$24.99 - Apocalyptic third-person shooter, set in New York during a Black Friday sale.
Alien: Isolation at £10.19/$12.49 - An otherworldly creature of unknown origin wants to add you to its professional network on LinkedIn.
Obviously, the sale is set to snowball, as Steam sales are wont to do. It runs until November 29 and it is sometimes worth waiting until the last days of the sale before committing to a bunch of purchases. You should also check out our best PC gaming deals. That way you can pick up the top things on your list in a restrained and educated way. Prioritising purchases to fit your budget sounds boring, but you don't want to have to sell your other kidney. And anyway, this is Steam. There will always be another sale.