Steam Charts: In MemoVRium Edition
ContVRoVReVRsial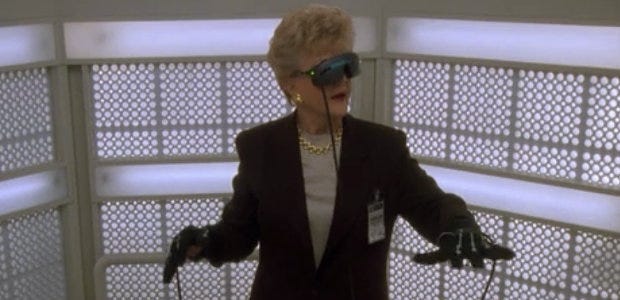 With Steam's big VR Spring Sale on, obviously the charts are a bit full of... ha ha ha, no of course not. No one wants VR. Same old same old.
I'd just like to say my own thank you and goodbye to SteamSpy as was, after last week's effective end. The site was invaluable to many, especially independent developers trying to fathom any rationale out of the batshit madness that is the Steam Store. But for me it had a much more specific use: it showed all historical discounts on a game in the most useful and clear way, letting me quickly understand re-entries in the Charts and peculiar trends. It has been an aid for me since I started writing this column one hundred and forty-five years ago, and as much of a pain in the arse as its wild sales estimates were in the hands of the unwashed, it was really very useful for many things.
Anyway, this week I'm going to explain how to make the VR version of all the charting games, because I'm the cleverest.
Obviously a top-down RPG presents immediate problems when it comes to a VR recreation, but massive inconvenience and no good reason to do it has never stopped VR development, and nor should it now. In DiVRinity: OVRiginal Sin 2, the player plays as one of the fireballs cast by a magic-wielding NPC, able to slightly steer the direction in which it's being fired, while given the extraordinary freedom to look around a bit while hurtling through the air toward a bad lizard.
Briefly dropping its price by two-thirds saw this two year old game re-entering the charts, but it's back up to £19 again now. I know that because I used SteamPrices.com, which has a horrible fiddly graph nowhere near as nice and clear as SteamSpy once had. Sadness.
DaVRkest Dungeon is a no-brainer. You'll be able to play the 2D turn-based combat, but on a vast cinema screen that appears in front of you, rendered in breathtaking low-res 3D, surrounded by the empty seats of the theatre, a keyboard and mouse depicted in life-like form beneath your two floating VR hands, operated by augmented Vive wands. Play Darkest Dungeon like you never have before: dizzy.
It's the Counter-Strike you know and love, but this time the fast-paced team-based online action takes place all around you! CounteVR-StVRike allows you to zip around the familiar maps without all the effort of pressing W, instead letting you teleport between pre-designated markers on the ground, ideally placed for optimum aiming at enemies. And don't miss out on the ultimate graffiti spraying minigame!
Long-time fans of Final Fantasy were up in arms when XV revealed that its fights were to take place in-situ, the first time ever in the series. In what many are seeing as a mea culpa from Square, the VR version releasing later this century is to put this right.
Final Fantasy XVR will see players playing the game as usual, until each combat encounter where they'll need to don their VR headset, switch the game over to Steam VR mode, and then play the fight in a top-down mode where you can actually literally reach into the game board and move your characters around a grid of squares, set in a field miles from anywhere. Fight over, take the helmet back off, reload the game, and you're back where you left off, and everyone's happy!
A hefty 2/3 discount on the £50 year old game, alongside the recent announcement of a season 2, and the even more recent announcement that Sam Fisher was to be moonlighting in the game this month, did the trick for Wildlands.
However, more importantly, here are the recently leaked notes on the forthcoming Tom Clancy's Ghost VRecon Wildlands: Explore the Delta Company, First Battalion, 5th Special Forces Group own base in vivid detail! See where the Ghosts eat, sleep and relax, in this never-before-seen behind-the-scenes peak into the lives of your favourite warmongers. Featuring over an hour of content, this VR special offers a unique experience unlike anything before in the Ghost Recon universe.
A VR version of Skyrim, which would be called SkyVRim were it possible, can never exist. The deal Bethesda signed with the mayor of Tamriel many years back, before development of Daggerfall began, prevented there ever being a VR depiction of the continent.
It made sense back then, of course, but today where VR is much less dangerous and slightly less racist, it could be argued the agreement is out of date. Hopes are that it can be renegotiated before the release of the next Elder Scrolls VI: Hammerfell in 2019.
FaVR CVRy 5 of course places the emphasis on the game's hunting, with a few tweaks and changes to the original free-roaming concept. Naturally players will stand still in the VR build, and weapons are limited to the bow and arrow. Bears and skunks will run freely about the player, who must take part in the absolutely life changing experience of pulling back one of the VR wands by their ear while holding the other one up in front of them, maybe at eyeline if they can sort of guess where that is, and then press the trigger, exactly replicating the experience of archery.
Updates later this year intend to add in a helicopter flight sim option, where you'll be able to look down and see all sorts of lights, and even look out of the windows.
2. Dying Light Enhanced Edition
In an uncanny repeat of February, Dying Light reduced its bells-and-whistles version down by two-thirds, so sees itself back in the charts. But cor, #2 is quite the feat for the three-year-old game. That it's constantly being updated with new #content certainly helps, and the season pass in this bundle ensures you get all of that.
Unfortunately there can be no VR version, as the game's title features neither a V nor an R, and I've got a running joke to maintain here.
Whenever there's a thunderstorm, as there was two nights ago (we get about one a year here in the South West), I listen to Sometimes by James. So so shall you.
The Steam Charts are compiled via Steam's internal charts of the highest grossing games on Steam over the previous week.