Steam Summer Sale ULTIMATE HYPERGUIDE
Tips! Protips! Q-Tips!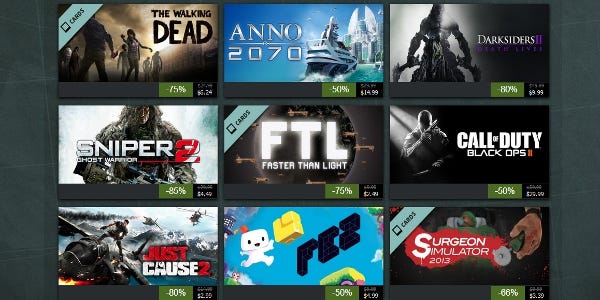 Steam's summer sale is happening as we speak! Isn't that exciting? This webpage tells me it's exciting, and it's probably the greatest thing I've seen in my entire life. And of course, with Steam sales come innumerable guides, because your IQ is just a picture of a confused sloth and you need to be told which things to buy. But goodness gracious, there are so many. What ever will you do? How will you cope? Why, by reading my definitive, all-encompassing hyperguide, naturally. It's scientifically proven to be 127 percent guidier than all other guides. Do you have questions? Well then, I have answers. But only to really specific questions that I wrote.
Q: I AM POOR AND DON'T WANT TO SPEND A BUNCH OF MONEY WAAAAAAH.
A: OK, then don't do it.
Q: BUT I STILL WANT TO AND HONESTLY WILL PROBABLY BE FINE MONETARILY I JUST SAY THIS BECAUSE EVERYONE ELSE DOES.
A: OK, then do it.
Q: BUT I ACTUALLY HAVE MOST OF THESE GAMES BECAUSE THEY'VE ALREADY BEEN IN COUNTLESS OTHER SALES.
A: OK, then don't do it.
Q: I AM THE ONE HUMAN WHO HASN'T PLAYED BIOSHOCK INFINITE YET.
A: OK, then do it.
Q: I JUST BOUGHT IT. WHY DO I STILL FEEL EMPTY INSIDE.
A: Probably because there haven't been a lot of great triple-A games on PC recently and most of the major indie releases launch cheap anyway. Oh, and Steam trading cards are kind of a boring gimmick. Also, because the most exciting event of your summer is a videogame sale.
Q: OH. BUT MORE SALES WILL MAKE ME HAPPY, RIGHT?
A: GOG and Amazon both had big ones. Arguably better than Steam's.
Q: COOL! THIS WILL SURELY MAKE ALL OF MY TROUBL--
A: You missed them. Well, I guess Amazon's is still going, but it's US-only and ends on July 14th.
Q: OH.
A: Yeah.
Q: I THINK I WANT A HUG.
A: No. But anyway, don't you have a million-billion games backlogged from other Steam sales anyway? And look, I don't know, Just Cause 2 is super great. It's practically free at this point. Antichamber's also magnificent, and you know what? You may as well just wheel your cart up to the indie section and go nuts, because everything there is running about with only itsy bitsy price tags to cover up their gamey bits.
Q: BUT I'M POOR AND DON'T WANT TO SPEND A LOT OF MONEY
A: OK, we're done here.