SteamWorld Quest switches over to PC this month
In SteamWorld, all cards are shiny.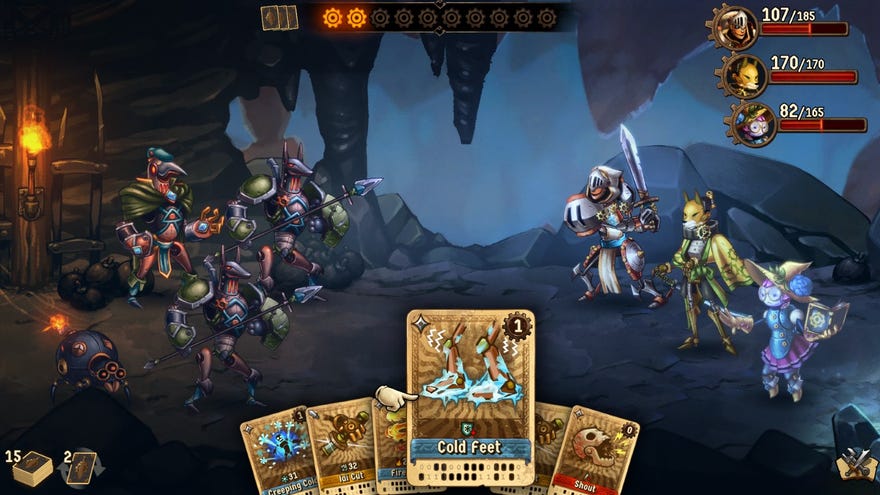 After a couple weeks as a Switch exclusive, card-battling RPG SteamWorld Quest: Hand Of Gilgamech is hopping over to PC on May 31st. The fourth in Image & Form's consistently excellent SteamWorld series, the games have so far included two mining-heavy platformers and one turn-based squad combat game with a focus on trick-shooting. Naturally, the next step for the series is a Slay The Spire-styled JRPG with some Paper Mario flair. The Switch version is a real charmer, with compelling deck-building backed up by adorable art. Take a look at the new PC trailer below.
From what I've seen on Switch, SteamWorld Quest: Hand Of Gilgamech is a great introduction to deck-building card-battlers, especially for those put off by Slay The Spire's sometimes cruel difficulty. While the card combat is roughly similar, having mostly-scripted encounters and a party of three characters gives you a lot more room for error. It's not an especially tough game, or a long one (most estimates I've seen clock it around fifteen hours), but it's consistently engaging, throwing new wrinkles into the mix all the way through. As you'd expect of a SteamWorld game, really.
As with the other SteamWorld games, there's no grand canon linking these games together, but they share a universe full of steam-powered robot people, this time on a medieval fantasy-themed world. That means cyber-dragons and (adorable) witch-bots, and a thing for animal masks for some reason. While I'd not call it laugh-out-loud funny, the game frequently made me smile, and some of the incidental details are great. Fans of The Adventure Zone podcast should look carefully around the merchant's background art. That, and the shopkeeper's orange, feline features. Hrrm.
SteamWorld Quest: Hand Of Gilgamech hits Steam on May 31st, published by Thunderful. It'll cost £22.49/€24.99 /$24.99.