Get A Free Premium Account And 10,000 In-Game Cash For The Stalker-Inspired Online Shooter Survarium
3000 to giveaway.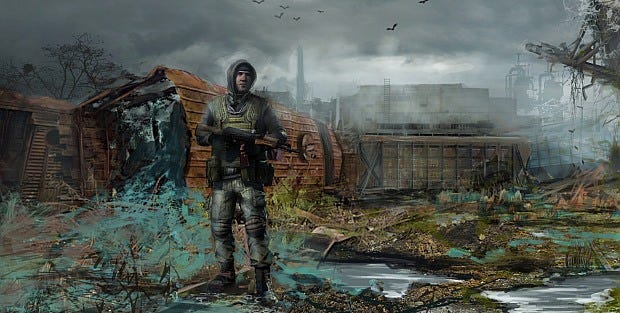 Survarium [official site] is a free-to-play online shooter that walks in the foosteps of Stalker. Its skies are gloomy and overcast, its levels are set among industrial decay, and its survivors fight with rusting and makeshift weaponry. The game has been rumbling through Early Access for some time and we quite like it. In case you like it too, we're giving away 3000 codes for a week's worth of Premium Account time and 10,000 Silver game currency.
Premium accounts gain 50% more experience and silver while playing than regular accounts, meaning you can level faster and unlock more toys to play with. Silver is Survarium's in-game currency and is used for buying weapons and items.
The widget below will dispense your key in exchange for one of five actions: following us on Twitter, following our Steam group, subscribing to our YouTube channel, or visiting our Facebook page. The latter should work without requiring a Facebook account and whether or not you've already Liked the page previously. Remember - following us is a great way to make sure you don't miss these kinds of giveaways in future.
Survarium Premium Account/10,000 Silver Giveaway

Once you've completed one of the above actions, hit 'Continue' in order to make the key appear. The keys are limited to one per user and the giveaway will expire when all the codes are gone or at midnight BST on Friday August 28th.
Once you've received your key, you can redeem it by registering for a free account on the Survarium website, confirming the account via the email you receive, and then going to 'Profile' > 'Promo-codes' > 'Add promo-code' > 'Apply code' on the Survarium website. Please note that the bonuses are not credited immediately and can take anywhere from 5 to 30 minutes to appear. If you prefer to play the game via Steam, it is necessary to do the above but using the Steam browser.