Fear The Wolves is battle royale in irradiated Chernobyl
Tend 'em up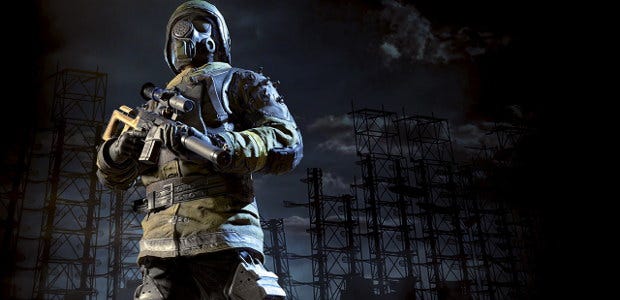 Take one hundred players fighting to the death in that Playerunknown's Battlegrounds way, throw them into the S.T.A.L.K.E.R.-esque irradiated and anomaly-ridden ruins of Chernobyl, and you might have a game like the newly-announced Fear The Wolves. This latest game to hop on the hot Battle Royale trend is coming from Vostok Games, the studio founded by some former members of S.T.A.L.K.E.R. developers GSC Game World. Fear The Wolves is separate to Vostok's not-very-good S.T.A.L.K.E.R.-inspired multiplayer shooter Survarium, mind, which is still in early access.
Across in-game days and nights, Fear The Wolves will throw 100 players together solo or in teams to dodge anomalies, scavenge for supplies, and try to murder each other to bits. The announcement is pretty slim, without even a screenshot to show.
Our Adam is at the event in Paris where publishers Focus Home today announced Fear The Wolves, so hopefully he'll come away with more to tell us. Adam has actually spoken before about wanting a Battle Royale game which took cues from S.T.A.L.K.E.R. in its environmental hazards, so I do have half an eye on Le Monde for reports of a Mancunian being dragged away to a police car kicking and screaming "That's my idea! C'est mon idée! Je l'ai fait!" The announcement explains:
"Across the hostile wastes, everyone is threatened by deadly anomalies and the dynamically-changing weather. Along with a day-night cycle, this constantly forces survivors to adapt their strategies, and players can find protective gear that allows them to explore dangerous off-limit zones. All the while, the howls of mutated creatures echo through the wasteland..."
It is curious that Vostok are making this while Survarium is still in early access. I've dropped Vostok a line to ask about what this means for Survarium.
I'm not surprised that Fear The Wolves is unconnected to Survarium, though. As Focus Home are publishing the game--putting up money for it--they'll surely want it to be something separate rather than chained to Vostok's own game, especially as Survarium doesn't have a good reputation. As Marsh Davies said when he played it, the appeal of Survarium has always been a hope that its long-promised PvE sandbox mode will eventually offer something S.T.A.L.K.E.R.-y rather than the blah multiplayer shooter it actually is.
Fear The Wolves is due to enter early access some time this year.