System Shock Is Now Available On GOG
Finally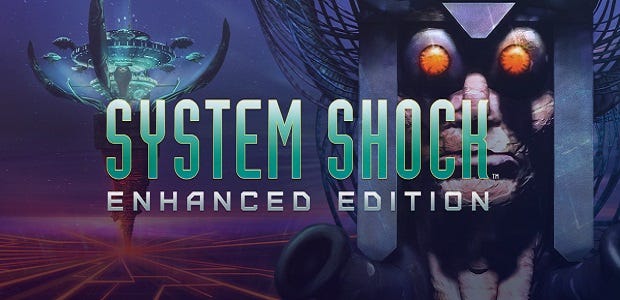 The original System Shock is now available on GOG. It's no exaggeration to say that Looking Glass' first-person sci-fi horror hybrid is one of the most influential games ever released and the new enhanced edition should lead to a re-evaluation of its precise place in the history and development of the immersive sim. Night Dive Studios are responsible for the re-release:
"With System Shock: Enhanced Edition, we're implementing game-changing improvements, including mouselook, widescreen, and a high resolution display mode," says Stephen Kick, CEO of Night Dive Studios. "The classic game has never been more accessible to a modern audience."
Video and details below.
"The re-release supports resolutions up to 1024x768 (compared to the original 640x480), and a native 854x480 widescreen mode. Gameplay was also streamlined with a toggleable mouselook mode, including more intuitive inventory and item management. Combined with assorted bug-fixes and remappable controls, System Shock is now truly enhanced.

"Some gaming experiences are truly worth preserving. Gamers can also return to the authentic 90's gameplay with System Shock: Classic - ready for modern systems, completely unaltered in all other aspects. Both releases are available in a single package, with a 40% discount for all System Shock 2 owners on GOG.com - and 20% off for everyone. The discounted offer will last until Tuesday, September 29, 6:59 AM GMT."
I'm one of those - and there are many of us - who feel more of an attachment to System Shock 2 than the first game, but I've always had a sneaking suspicion that timing plays a part in that. I was thirteen years old when System Shock came out and while I remember playing it at the time, I also remember being intimidated by it - I'd never seen anything like it and didn't fully understand quite what I was seeing. By the time the sequel rolled around, encased in a friendlier (though still fearsome) shell, I was wiser and more willing to engage with the kind of bold thinking that drove the series.
Twenty years later, a return to Citadel is long overdue. I reckon it'll feel like going home. We're also going to look into exactly how this enhanced edition came about, and I'm probably going to argue that System Shock should be our game of the month for September because I am the cat among the pigeons.